City of Santa Ana
Community Alert: Super King Markets is Hiring in Santa Ana!
Super King Markets will be conducting interviews at the Santa Ana WORK Center on the following dates and times. Interviews are offered on a first-come, first-served basis.
April 7, 2016 10:00 am-2:30 pm
April 14, 2016 10:00 am-2:30 pm
April 21, 2016 10:00 am-2:30 pm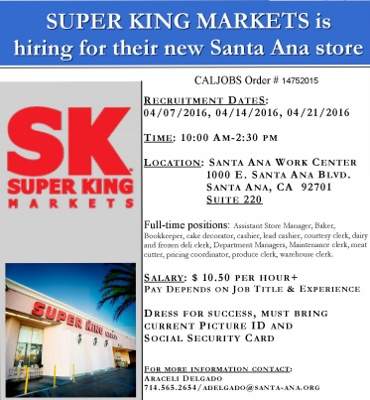 Address: Santa Ana WORK Center 1000 E. Santa Ana Blvd. Suite 220 Santa Ana, CA 92701. Please bring your ID and Social Security Card to the hiring event. Contact Araceli Delgado for any questions regarding this event 714-565-2654 or e-mail adelgado@santa-ana.org.
Company is in need to hire 80+ individuals for various positions for their new store in Santa Ana.
Jobs available with Super King Market are:
Assistant Store Manager, Baker, Bookkeeper, cake decorator, cashier, lead cashier, courtesy clerk, dairy and frozen deli clerk, department managers, maintenance clerk, meat cutter, pricing coordinator, produce clerk, warehouse clerk.
Apply online here.