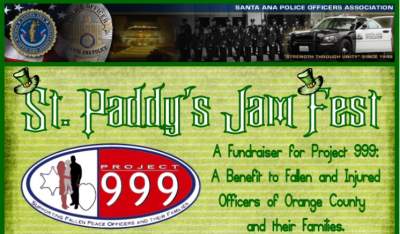 The Santa Ana Police Officer's Association (SAPOA) is hosting a St. Paddy's Jam Fest fundraiser on Thursday evening, March 14, at 7 pm, for the 999 Foundation, that provides support for fallen officers and their families.
A few of of the SAPOA's members who are also musicians will be opening for Santa Ana's favorite cover band Cheap Date.  Please stop by and show your support. Drinks and snacks will be provided along with the music.
Cheap Date features Mary Walters, who is married to former Santa Ana City Manager and Police Chief Paul Walters, and her family – including Ellen Hirota, backup and occasional lead vocalist;  Tim Hirota, lead guitarist, vocalist and manager; Peter Hirota, drummer; Ann "Annie" Spencer, backup vocalist and tambourine; and Dominic Hirota, lead vocalist, as well as longtime band members second guitarist Jeff Halili and bassist Brian Satterfield, according to the O.C. Register.
Other SAPOA members who will be performing include:
Steve Alegre

Laure Bao
Alan Gonzales
Elizabeth Granados
John Kachirisky
Donna Longobardi
Paul McClaskey
Jay Miller
Chuck Saale
Colleen Taylor
Charlie Thayer
Judy Valdez
This event will be held at the SAPOA building at 1607 N. Sycamore. (just 2 buildings south of 17th on Sycamore). There will be a minimum $10 donation at the door.  The MC will be John Corby.  The DJ will be Don Padilla.  There will be free appetizers and beverages, raffles and an auction.