PRESS RELEASE, FOR IMMEDIATE RELEASE: April 18, 2016
Contact: Chris Schmidt, West End Community Oriented Policing, westendcop1@gmail.com; Connie Hamilton, Connect-to-Council, 714-745-1692 (Phone/text)
West End Community Oriented Policing to present Community Policing Forum for Santa Ana residents in South East District
Santa Ana, CA, –West End Community Oriented Policing, along with Connect-to-Council, will present the fourth Community Policing Forum for the residents of Santa Ana.
This forum will offer residents the opportunity to provide their input and assist in creating a community policing plan for Santa Ana. At the previous forums earlier this year, participants made suggestions, such as urging SAPD to build stronger partnerships with the community and faith-based organizations. Other suggestions are being solicited and the public is invited to share input. These suggestions will assist in a special research study being conducted by Chapman University. Recommendations will then be made to SAPD regarding Community Policing policies of the future. This is the fourth Community Oriented Policing Forum in this series. Previous forums were held in the South Coast, West End and North East Police Districts earlier this year.
Wednesday, April 27, 2016
6:30-8:30 p.m.
Delhi Community Center
505 E Central Ave., Santa Ana, CA 92707
Chris Schmidt with the West End Community Oriented Policing organization states, "Community Oriented Policing has had a long history in Santa Ana dating back to the 1970's under then Police Chief Ray Davis. This is a philosophy where the community and Police work in partnership to address local community issues, and promote proactive problem solving. These forums are an opportunity for residents, business owners, and people who work in Santa Ana to express their ideas and opinions on how to create safe and healthy communities."
About West End Community Oriented Policing: West End Community Oriented Policing is a non-profit organization that assists Santa Ana neighborhoods in setting up Neighborhood Watch programs and other events in the city.
# # #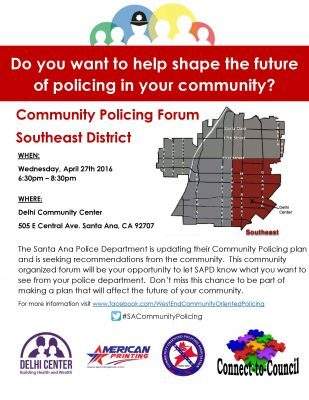 Acompañe a miembros de la comunidad para escuchar una breve presentación sobre la historia del programa de la Policia Orientada para la Comunidad en Santa Ana. El foro será una oportunidad para compartir sus ideas y ayudará a crear un plan de Policía Comunitaria para Santa Ana.
Cuando: Miércoles, 27 de Abril de 6:30pm – 8:30pm
Donde: Delhi Community Center
505 E. Central Avenue Santa Ana, CA 92707