FOR IMMEDIATE RELEASE
Immerse Yourself in Fairy Tales with Once Upon a Time New Interactive Exhibit Opens April 16 at Kidseum
Bowers Museum's Kidseum debuts interactive exhibit featuring seven folk tales from around the world
Santa Ana, California (April 15, 2016) – Kidseum, Santa Ana's children's museum and learning center by Bowers Museum, welcomes its newest experiential exhibit, Once Upon A Time, on April 16. The display offers a unique and educational approach to learning seven different fairy tales throughout history and from around the world.
Best suited for ages 2-10, visitors will experience stories through playing instruments, climbing and crawling while listening to the cultural impact and history of each tale. The fairy tales include Anansi and the Talking Melon, Beauty and the Beast, Cinderella, The Elves and the Shoemaker, Jack and the Beanstalk, Lon Po Po and Thumbelina.
"Why sit and listen when you can get up and do? We're excited to debut Once Upon a Time for a truly immersive and hands-on learning experience," said Scott Dunagan, Bowers Museum Vice President of External Affairs. "Kidseum believes that engagement is the key to education and we're looking forward to sharing this with our local community and Orange County visitors."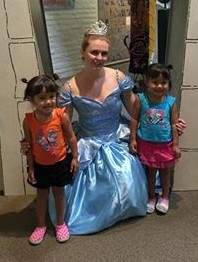 Once Upon a Time is a traveling exhibit, developed by Magic House at the St. Louis Children's Museum in partnership with the St. Louis Public Library. Magic House comes to Bowers Museum after 30 years of curating exhibits for children encouraging experimentation and creativity.
Once Upon A Time is available in English and Spanish and debuts on April 16. Visitors will have access to the exhibit during the following days and times:
April 16, 2016 – May 29, 2016
Saturdays an Sundays from 10 a.m. – 4:00 p.m.
Memorial Day, May 30, 2016
10 a.m. – 4:00 p.m.
May 31, 2016 – August 28, 2016
Tuesday – Sunday from 10 a.m. – 4:00 p.m.
Tickets are $10 for all ages and Bowers Museum members are free. Admission is free for Santa Ana residents every Sunday with proof of residency. For more information, please visit http://www.bowers.org/index.php/visit/kidseum/kidseum-exhibits.
THE BOWERS MUSEUM
The Bowers Museum has earned an international reputation through its world-class exhibitions, including Warriors, Tombs and Temples: China's Enduring Legacy, Terra Cotta Warriors: Guardians of China's First Emperor, Secrets of the Silk Road, and Mummies – Death and the Afterlife: Treasures from the British Museum, as well as its own extensive art collections from throughout the Americas and the South Pacific. Additionally, the Bowers' Kidseum, located one block south of the main museum, offers a high-tech and interactive focus on its new mission of "Igniting Imagination through Exploration" spotlighting the excitement of art and archaeology.
Enjoy a leisurely luncheon at our award-winning restaurant, Tangata. Outdoor seating is also available, overlooking the Bowers historic mission-style courtyard from 11 a.m. to 3 p.m. Browse the rare and exotic at the Bowers Museum Gallery Store. It's more than just a shopping trip—it's a cultural experience.
Bowers Museum and Kidseum are closed on Mondays, Independence Day, Thanksgiving, Christmas Day, and New Year's Day. Regular operating hours: Tuesday through Sunday, 10 AM to 4 PM.
FREE DAY
Bowers Museum and Kidseum offer free admission to Santa Ana residents, with proof of residency, each Sunday, through a generous donation in memory of Dorothy Goerl and courtesy of the Lockhart Family.
BOWERS MUSEUM, in Santa Ana, is centrally located in the heart of Southern California. Address: 2002 North Main Street, Santa Ana, CA 92706
Tickets and Information/ 714.567.3600
Group Tours: grouptours@bowers.org / 714.567.3680
Membership: membership@bowers.org / 714.567.3639 www.bowers.org
Media Contact: Matt Kovacs, BLAZE PR, mkovacs@blazepr.com, 310-395-5050