Here are a few projects organized by nonprofit OneOC going on this Friday for Earth Day:
OneOC "Spirit of Giving-Environmental Literacy" – Countywide 8:30 a.m.-10:00 a.m.
Education (Service-Leaning) – Spirit of Giving empowers Title-1 first-grade students to improve literacy skills while teaching them how they can make a difference in their communities, regardless of their personal circumstances. Volunteers will assist first grade teachers, reading and reflecting with students on environmental topics as well as present each child with a book for their personal library.
Heritage Elementary – Santa Ana = 3-6 Spots 8:30 a.m.
Lincoln Elementary – Santa Ana 9:00 a.m. State Farm volunteers
Monroe Elementary – Santa Ana 9:00 a.m.
Wallace Davis Elementary- Santa Ana 8:30 a.m.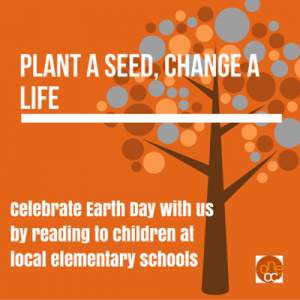 OneOC School Gardens "Harvesting for Hunger" – Countywide 9:00 a.m.-11:00 a.m.
Health & Wellness (Education) – OneOC Service-Learning gardens provide on-going opportunities to meet CA Standards-based Life Science instructional goals while giving K-6 students a chance to provide meaningful service to their community. Volunteers will remove debris, amend the soil and re-stain raised beds as well as assist students in planting or distribute seeds to classrooms/teachers.
Remington Elementary – Santa Ana 9:00 a.m. 
Operation Gratitude "Jigs, Cords & More" – Santa Ana 10:00 a.m.-12:00 p.m.
Safety Net (Military & Veterans) – Operation Gratitude seeks to lift spirits and meet the evolving needs of our Military and First Responder communities by providing opportunities to appreciate all who serve. Volunteers will assemble Jigs to assist weaving "Paracord Survival Bracelets" for active duty soldiers, as these non-issue bracelets hold up to 550 lbs and can become Life-saving devices!
Click here to sign up for Volunteer Opportunities at One OC!