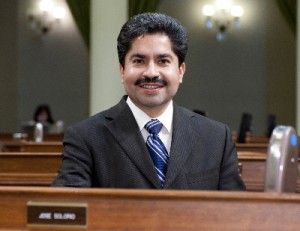 Solorio Bill to End School Incentive Programs that Publicly Humiliate Struggling Students Passes First Committee
AB 1166 Passes Assembly Education Committee with Bi-Partisan Vote
SACRAMENTO – State Assemblyman Jose Solorio (D-Anaheim) today presented to the Assembly Committee on Education AB 1166, a bill that would clarify that a school cannot include any information on a student identification card — or any object that a student is required to carry at school — that reflects their performance on standardized tests or course grades. The measure passed out of the Committee on a vote of eight to one.
Solorio was compelled to author the bill after becoming aware of an outrageous practice implemented in two Anaheim Union High School District schools that required students to carry school ID cards and notebooks in one of three colors based on their performance on the California Standards Tests from the previous school year.
"Students learn every day and can achieve higher academic milestones at any time. To publicly categorize them for an entire year based on their test scores is just wrong," Solorio said. "AB 1166 will ensure that schools understand that these types of incentive programs compromise a student's privacy and are prohibited by law."
The questionable incentive programs that AB 1166 would clarify as illegal mandated that students carry school ID cards in one of three colors: black, gold or white. The black card, held by the highest achievers, and the gold card gave students a range of special campus privileges and discounts, including free home games and discounts at local businesses. The white card, held by the lowest achievers, gave students no privileges and required them to stand in a separate and slower cafeteria lunch line. While designed to be an incentive for students to work harder, many students and parents complained that the program was embarrassing and demoralizing. The schools that prompted Solorio's legislative response have halted most elements of the programs, but vowed to replace it with some other program to incentivize students.
"AB 1166 addresses this practice of segregating students based on test scores," Solorio said. "California needs to make it absolutely clear that these types of student identifier programs violate student privacy and are illegal. We need policies that encourage students to do well and not demoralize them."
The student privacy protection measure will now move to the Assembly Floor for debate.
State Assemblyman Jose Solorio is the Chair of the Assembly Insurance Committee and also serves on the Assembly Appropriations and Transportation committees. He represents the Sixty-Ninth Assembly District, which includes the cities of Anaheim, Garden Grove, and Santa Ana. For more information about Assemblyman Solorio, visit www.assembly.ca.gov/solorio.
###