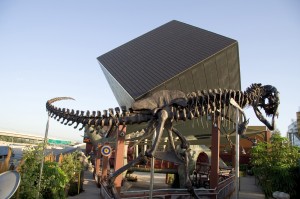 Saturday, June 26 & Sunday, June 27
DinoQuest, the world's only interactive dinosaur exhibit gets a fresh start with a grand re-opening featuring Baby Triceratops and special presentations about dinosaurs!
Hands-on activities include a Fossil Dig and learning stations on how fossils are made. Plus, brush up on your Dino IQ and be a contestant on Dino Jeopardy!
Baby Triceratops, star of the Honda Center's WALKING WITH DINOSAURS arena spectacular visits Discovery Science Center!
WALKING WITH DINOSAURS – The Arena Spectacular, based on the award-winning BBC Television Series, will make eight performances at the Honda Center in Anaheim, September 1-5, 2010.
Baby Triceratops Appearance Times:
Saturday & Sunday: 11:30am & 12:15pm (appx 20 minutes each in DinoQuest area)
Special Presentations with Paleontologist Mark Roeder:
Saturday, June 26:
1:00pm: The Ways We Know Dinosaurs
What is the physical evidence that dinosaurs existed. Bones, teeth, and skeletons are the obvious. But what other physical evidence has been found documenting how dinosaurs may have lived.
2:00pm: The Long Necks-Sauropods
The long necks were the largest dinosaurs. With long necks and tails, a tiny head, little teeth and a gizzard (stomach) full with polished stones, this was a very interesting dinosaur group.
Sunday, June 27:
1:00pm: History of Dinosaur Hunters
Originally thought to be dragon bones, it was not until the early 1800's that dinosaurs bones were recognized as the remains of large extinct reptiles. Color characters such as the Mantells, Richard Owen, William Buckland, Edward Drinker Cope, O.C. Marsh, and other famous dinosaur paleontologists made these fantastic dinosaur discoveries.
2:00pm: Marine and Flying Reptiles
While the dinosaurs ruled the land, non-dinosaur groups like the flying reptiles ruled the air, and marine reptiles dominated the seas. Learn about bizarre groups like the pterosaurs, ichthyosaurs, plesiosaurs, and mosasaurs that roamed the Mesozioc airways and seas.
* Presentations & Times Subject to Change
Click here to buy tickets online!
Admission Discounts & Deals
If you are a cardholder (ATM, debit or credit card) at Bank of America, you can get FREE admission to Discovery Science Center on the Saturday of the first full weekend of any month in 2010. Click here for details.
The 2010 Orange County, CA Entertainment Book contains a coupon for one free child admission when an adult admission is purchased at the regular price, valid through 11/1/10.