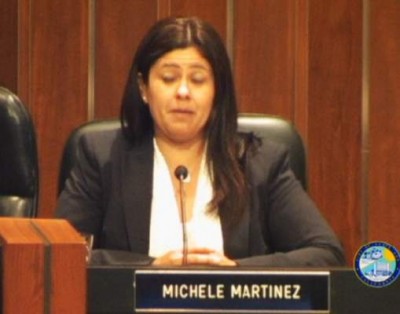 According to our sources, it looks like the Santa Ana City Council is going to pay Councilwoman Michele Martinez a stipend of $18,000 a year to sit on the Board of the Metropolitan Water District.
In years past this role was filled by a Santa Ana Public Works employee – who was not paid anything extra to attend the meetings.  It was part of his job.
Even the previous MWD Commissioner, former Santa Ana Mayor Dan Griset, served on the MWD Board without asking to be paid.
Martinez will become the first beneficiary of this stipend.  This is not exactly the sort of history we ought to be making!
The City of Santa Ana was one of the original 13 founding cities of the MWD.  Never in the City's history has a stipend been paid to the board member representing Santa Ana.
Griset by the way was dumped after eight years of service to the city via a letter that the City Clerk sent to the wrong mailing address!  We weren't big fans of Griset but that was no way to say goodbye to him.
You can bet that Martinez will also be expensing expensive meals and stays at five star hotels as part of her work on the MWD Board.
This is what happens when under-employed politicians get elected to our part-time City Council!