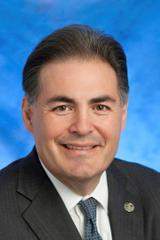 We sat down with Santa Ana's City Manager, David Cavazos, yesterday to talk about his job and where he thinks Santa Ana is going.  The interview turned out to be a real shocker when Cavazos admitted to being overpaid – and said he would finish out the rest of this year for a salary of $1!
New Santa Ana – Thank you Mr. Cavazos for taking the time to meet with us today.
Cavazos -You know I try not to read the blogs but yours is one that keeps being brought to my attention, so I thought it would be a good idea to meet with you and set the record straight.
New Santa Ana – Do you feel that you deserved the bonus that the City Council agreed to pay you?
Cavazos – I do.  When I came here I told the City Council I would find creative ways to bring in more money – and I did that.  That bonus was a very small part of what I brought in.  Think of it as a finder's fee.
New Santa Ana – You make more money than the City Managers of wealthy cities like Irvine and Newport Beach.  Do you feel that your huge salary and benefits are justified?
Cavazos – Again, I do.  No one wants to come work in Santa Ana.  And this city has serious challenges.  But I want you to know that this is a subject that I really found myself pondering this week.
New Santa Ana – How so?
Cavazos – Well we were preparing a press release yesterday about Cesar Chavez Day and I found myself pondering just how much Chavez sacrificed for the working people of California.  He dedicated himself to making their lives better while I have really focused, to be painfully honest, on earning a big check and generous benefits.  So I have decided to do something about that.
New Santa Ana – Are you saying that you are going to take a pay cut?
Cavazos – No.  More than that.  I have decided to work for the rest of this year for $1 and to donate the rest of my salary to a number of local non-profits.
New Santa Ana – That is incredible!  And this is the first time you are mentioning this to anyone?
Cavazos – Yes.
New Santa Ana – What about next year?
Cavazos – We'll cross that bridge when we get there.  Listen I have enough money already to be able to heat my home by burning U.S. currency.  So getting paid one dollar for the rest of this year is really no big deal.
New Santa Ana – What about your benefits?
Cavazos – Well I am not messing with those!  Like I said before, I have earned what I get.  And just look at how we have turned around our city budget.  We are moving forward now and Santa Ana is in full recovery.
New Santa Ana – What about the increase in gang violence that we have been experiencing for the past year?
Cavazos – Well I am not happy about that.  But our police department is understaffed and our school system is not in great shape.  Too many kids are still dropping out and the gangs are happy to put them to work as drug runners.  But on that front, I think that legalizing our medical marijuana dispensaries and taxing them is a step in the right direction.
New Santa Ana – Anaheim is moving to Ward-Specific City Council elections.  Would you support changing our own elections from at large to Ward-Specific?
Cavazos – To be honest I don't have a problem with our current system.  It is working.  We have a great City Council.
New Santa Ana – But do you think it represents everyone in our city?
Cavazos – Sure. Granted we have an all Latino Council but that represents the majority of our residents.  And if you look at our City Commissions you will find that the white people have most of the choice appointments.
New Santa Ana – Is that really a good thing?
Cavazos – Absolutely.  We need qualified people on the Planning Commission in particular.  There are plenty of opportunities for other folks to serve on boards and commissions that are not so vital.
New Santa Ana – But the majority of the Planning Commissioners all live in Ward 3!
Cavazos – That should not surprise us.  That is the nice part of Santa Ana.  Of course the cream of the crop in our city lives there!
New Santa Ana – What do you think we should do about the homeless?
Cavazos – Frankly I am all for giving them bus passes and encouraging them to visit the rest of our beautiful County.
New Santa Ana – What about the shelter issue?
Cavazos – The Supervisors are now looking at a location in Anaheim.  I support putting it anywhere but Santa Ana.  We have enough problem residents already.
New Santa Ana -There has been a lot of talk in town about the ongoing gentrification of Downtown Santa Ana.  How do you feel about that?
Cavazos – I think what they are doing in our downtown is great.  There are finally a few places I can eat at – instead of having to drive all the way to Newport Beach for lunch.
New Santa Ana – The latest reports indicate that we have a real shortage of affordable housing in Santa Ana.  Do you have any ideas about what to do about this?
Cavazos – I think that if you cannot afford to live here you should look at Stanton.
With that final question our interview ended.  We thank Cavazos for his time and his honesty!