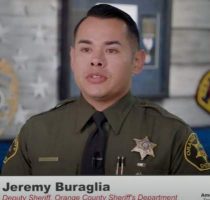 SANTA ANA, Ca. (June 17, 2020) – Today the Orange County District Attorney's Office filed charges against a deputy sheriff for alleged conspiracy and false impersonation that occurred when he was working as a background investigator for the Orange County Sheriff's Department. The charges are the result of a criminal investigation by the Department.
The Department became aware of the allegations in May 2019, and immediately began an internal criminal investigation. The initial investigation revealed suspected misconduct and inconsistencies in the background investigation of applicant Mario Barragan that occurred from September-November 2018. Barragan was applying to become a deputy, and was hired by the Department in November of 2018 as a Deputy Sheriff Trainee.
Jeremy Buraglia, an 11-year veteran of the Department who holds the rank of investigator, is suspected of falsifying documents related to the background investigation of Barragan who was applying to become a deputy sheriff. It was later discovered that Barragan lives with Buraglia and that he had unsuccessfully applied to be a deputy several times previously.
Buraglia was placed on administrative leave on May 15, 2019. The Department continued its criminal investigation and provided the case to the OCDA in October 2019 for consideration to file criminal charges. With this criminal filing, the Department will move forward with the administrative investigation, which could include discipline up to separation from employment.
Barragan, who was in the Orange County Sheriff's Regional Training Academy at the start of the investigation, was released from his probation, separated from employment, and did not graduate from the Academy.
"I am deeply disappointed in the actions of Mr. Buraglia," said Sheriff Don Barnes. "We hold our employees to a high standard and will hold them accountable for wrongdoing. This criminal investigation conducted by our Department against one of our own speaks to the determination of our agency to not tolerate misconduct and be accountable to the public we serve."