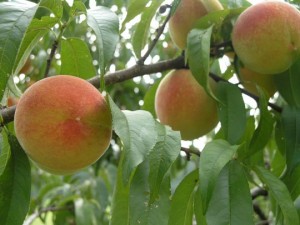 Got fruit?    Want to help feed hungry families?
Announcing….CommUnity Harvest !
Do you have extra fruits, vegetables, and/or herbs growing in your front or backyard?  Are they going to waste, falling from the tree, uneaten?  Do you have the space and ability to produce surplus fruits and veggies in your garden or greenhouse?  Would you prefer that the food be utilized by families who need it?  We would!…and we can help!
The Grain Project is launching a new project to serve our low-income residents in Santa Ana, CommUnity Harvest. Residents whom have surplus food and whom are interested in donating it can sign up with us. Then, you can either drop off your harvests at our drop-off sites or we can arrange to pick up the bounty at your location. We will then see that these healthy harvests make it into the hands of hungry residents, complete with suggestions on how to prepare the items in a healthy fashion. We will also issue you a tax-deductible receipt for the value of your donation.
Are you or do you know of Santa Ana residents in need of free nutritious foods? Food donation recipients must be at or below 200% of the federal poverty guidelines. Please contact us for more information and to sign up as a recipient.
Sign up by contacting our CommUnity Food & Resource Coordinator:
Shadi Shariat –  shadi@grainproject.org  (714) 542.9392  Hablamos Español
If you don't have any food to donate, but you'd still like to be involved, you can help by notifying your friends, neighbors, and others about CommUnity Harvest to help us spread the news so we are able to gather and distribute even more food.  Additionally, we are seeking volunteers to help with this program.  Contact Shadi to become involved.  Thanks for your support!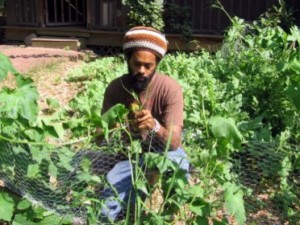 Eugene is back!
…gain garden knowledge and be entertained…
Edible Garden Workshop : Building Community
* * *  THIS Saturday, April 24 – 3-5pm  * * *

$16, $12 if you bring a friend
Click hereto sign up!
Space is limited. Pre-registrationpreferred.
(We'll also take registrations on site the day of the workshop.)
Bring a hat – we'll be outside!
Jerome CommUnity Learning Garden
2115 W. McFadden, Santa Ana 92704
map
Learn more about Eugene Cooke
All proceeds of this workshop are going to a good cause:
to cover the costs of the day's materials as well as the costs of supplies and tools so low-income residents may participate in our garden on a regular basis for free.