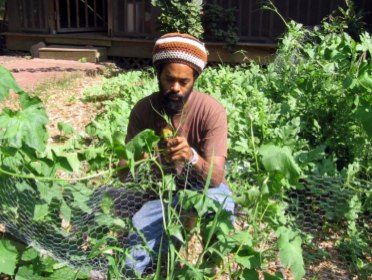 Santa Ana's The Road Less Traveled is celebrating Earth Day with a number of events and specials-check them out!
A Garden Party & Learning!
Many Americans are feeling the effects of one of the most extreme winters in recent memory in their pocketbooks as produce prices continue to rise at the grocery store. More and more of us are becoming conscious about where our food comes from. You will be sure to leave each of our gatherings feeling inspired to make changes big and small in your kitchen, your garden and in your community.
A GARDEN PARTY- THIS FRIDAY 7:30-9:30! Join us and Aadara yoga studio in hosting activist and community garden expert Eugene Cooke with a series of film shorts, discussions and holistic snacks. REGISTER HERE
*Come to The Garden Party and receive 20% off all workshops in May!*
UBRAN GARDENING 101- 4/25, 11-1PM: learn about growing food in whatever space you have, maximize growing potential and troubleshoot with Anarchy in the Garden's Adriana! REGISTER HERE
(below: Eugene in one of many gardens he has created)
Celebrating Earth Day this weekend
BICYCLE TREE-FIX YOUR OWN BIKE- 4/24, 11-4PM: ride your bike and learn the basics in bike repair.
FORAGING & PREPARING WILD GOODS- 4/25, 3-6PM: identify, taste and learn to prepare using wild harvested local greens, herbs and more!
SEW 1-4/25, 5-7PM: make headbands and cuffs with recycled and surplus fabrics.
*call our store of RSVP for your Earth Day classes HERE
Backyard In A Jar at Unique LA
Join our store and Backyard in a Jar at Unqiue LA. Store owner and Master Food Preserver Delilah Snell will be demostrating saurkraut at the 300+vendor event in LA's Garment District.
Also check out our Loll furniture display in the eco-lounge. See you at booth #158!
Bring us your fruit-get a jar of jam FREE!
That's right! Drop off extra fruit from your trees (or neighbors trees!) and local preserve makers, Backyard In A Jar will return it in 1-4 jars of a specialty preserve!
No need to call us, just drop off at least 1 bag of fruit to our store with your name, contact info and the neighborhood/street name it was harvested from and just wait for a phone call-a preserve might be named after your neighborhood.
2204 N. Main St. Santa Ana, CA 92706
(714) 836-8727
http://www.roadlesstraveledstore.com
2204 N. Main St, Santa Ana, CA 92706 
2204 N. Main St, Santa Ana, CA 92706 hours: tuesday through saturday : 10am – 6pm, sunday: noon – 5pm
the road less traveled store
*Earth Day 2010*
Contact Us
educate@roadlesstraveledstore.com
Phone: (714) 836-8727
Hours: tuesday through saturday : 10am – 6pm, sunday: noon – 5pm