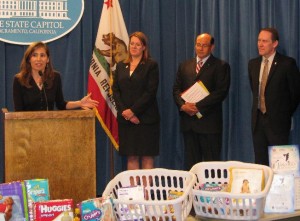 PHOTO: Left to right: Kerrin West, HomeAid Sacramento Board President; Assemblywoman Alyson Huber (AD 10 – Lodi); State Senator Lou Correa (SD 34 -Orange County); and Scott Larson, Executive Director, HomeAid Orange County
NEWS RELEASE
Senator­­,­­­­­­­ ­34th Senate District
For Immediate Release: April 27, 2010
Contact: Lina Hamilton (916) 651-4034
Senator Correa Supports Relief Drive at Capitol to Aid Homeless Women and Children
SACRAMENTO, CA – State Senator Lou Correa, together with other legislators, participated yesterday in the kick-off of the "Essentials for Young Lives" campaign at State Capitol. The purpose of this campaign is to collect baby items for homeless mothers and their small children. Laundry baskets will be placed in legislator's offices throughout the Capitol building during two weeks to collect essential baby items. Items collected will be delivered to programs and shelters that serve homeless women and children.
"I am proud to support the "Essentials for Young Lives" campaign", said Senator Lou Correa. "Many families in California have been affected by this economic recession. They have lost their jobs, their homes and some of those affected are the most vulnerable among us. Please open your hearts to help. What seem like small things to us, mean a great deal to them."
The "Essentials for Young Lives" campaign is a collective effort by HomeAid and the First 5 Commissions. Scott Larson, Executive Director of HomeAid Orange County said, "The homeless in our communities are not just individuals. They are children and their families".
"The Essential for Young Lives campaign is a partnership between the Children and Families Commission and HomeAid," said Mike Ruane, Executive Director of Children and Families Commission of Orange County. "We have provided hundreds of thousands of items in the past, but the need is much greater this year."
The public is invited to bring donations of diapers, baby wipes, baby food, and baby hygiene products. Donations will be delivered to HomeAid's service provider partners that give aid and shelter to homeless families. The families will receive the donations during Mother's Day weekend.
Similar drives are being held throughout the state. For more information or to locate campaigns in Orange County please go to www.homeaid.org/Chapters to find a HomeAid office in your community. You can also call HomeAid at (949) 553-9510 or Senator Correa's District Office in Orange County at (714) 558-4400.
Senator Lou Correa represents the 34th District, which includes the cities of Anaheim, Buena Park, Fullerton, Garden Grove, Santa Ana, Stanton and Westminster. ####
Lina Hamilton
Legislative Aide
Office of Senator Lou Correa, 34th District
(916) 651-4034
lina.hamilton@sen.ca.gov