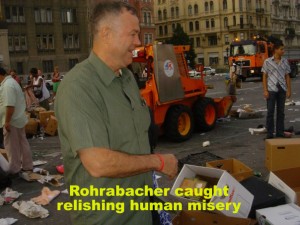 Congressman Dana Rohrabacher graduated from Palos Verdes High School in Palos Verdes Estates, California, attended Los Angeles Harbor College, and earned a bachelor's degree in history at California State University, Long Beach in 1969. He received his master's degree in American Studies at the University of Southern California.
This is not a man who ever lacked certainty.  This is not a man who ever wanted for anything.  In short, Rohrabacher has always lived a charmed life. 

Rohrabacher is in the headlines this week because he is outraged that Santa Ana College has started a scholarship in memory of an original Dream Teamer, Tam Tran, who died in a tragic car accident recently, along with fellow Dream Teamer Cynthia Felix.
Tran was a victim of the Vietnam War.  Her family ended up in Germany but the Germans refused to grant them citizenship.  They came here to the U.S. and found a similar cold reception.  Tam grew up here and graduated from Santiago High School in 2001.
Rohrabacher was a supporter of the war in Vietnam.  But, in a February 13, 2003 interview with Toby Eckert of Copley News Service, published in the South Bay (Torrance, Calif.) Daily Breeze, Rohrabacher revealed that he showed up to his wartime draft physical with an X-ray of a hip that he claimed he had injured while playing high school football. "They looked at it and said that my hip wasn't good enough," he told Eckert.
That's right.  Rohrabacher supported the Vietnam War but was too chickenhawk to actually go there and fight. 
Gustavo Arellano wrote a fitting tribute to Tam over at the O.C. Weekly.  Here is but one excerpt:
She proved an influential activist. Tran filmed a documentary in 2007, Lost and Found, that highlighted the life of a Filipina undocumented college student; it played in film festivals and spread virally across the Internet. She contributed to Underground Undergrads: UCLA Undocumented Immigrant Students Speak Out, a UCLA publication that gathered the stories of their subjects. That same year, just a couple of months after graduating from UCLA, Tran also testified before Congress in favor of the DREAM Act.
In a letter to letter to college president Erlinda Martinez, Rohrabacher said while Tran's death is tragic, "channeling our scarce resources to illegal immigrants, even if they are students, is unforgivable at a time when so many of our citizens and legal residents are struggling to meet their own education needs,'' according to the O.C. Register.
Rohrabacher has even threatened Santa Ana College's federal funding.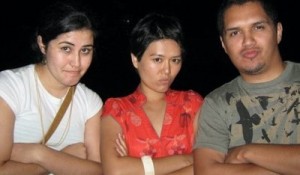 Garden Grove resident Tam Tran and Los Angeles resident Cinthya Felix, and Matias Ramos (OC Weekly)
Rohrabacher doesn't get it.  It's not that Tam's death was tragic, but rather that her life was an amazing testament to the value of the lives of the young people caught in limbo here in the U.S.  Brought here as children they have grown up as American as Rohrabacher, but they lack an official identity.  Their lives are difficult and filled with sacrifice.  How would the eternally pampered Rohrabacher have a clue as to what they go through on a daily basis?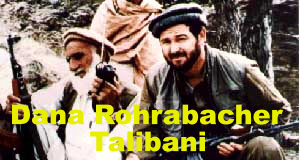 Rohrabacher is hardly a saint.  Just read his Wikipedia entry.  He was an early supporter of the Taliban.  He has in fact sided with some of the biggest scumbags in history, including the busted lobbyist Jack Abramoff.  Rohrabacher has defended torture.  He is a longtime Mexican hater and a gay basher, and a big proponent of both Prop. 187 and Prop. 8.  And of course he supports SB 1070, the Arizona racial profiling law.  He is simply disgusting.
And Rohrabacher isn't very accomplished compared to many of our undocumented students!  Click here for an OC Weekly comparison between Dreamers and the increasingly insane Rohrabacher.
It is ironic that the lame bloggers at the Liberal OC ripped Tran's fellow Dream Teamers this week.  Several of the Liberal OC bloggers suggested that it was wrong for the Dream Team to go after Congresswoman Loretta Sanchez, who until this week refused to co-sponsor the Dream Act.  The Liberal OC bloggers suggested that the Dream Team would have been better off lobbying Orange County's Republican Congressmen to support the Dream Act.
Do you really think that Rohrabacher would EVER support the Dream Act?  The very idea is ridiculous.
Click here to email Rohrabacher, not that it will do much good.
More importantly, please encourage your friends and family to vote in the June primary.  If you have any friends who live in Rohrabacher's district, which includes Huntington Beach, encourage them to support his Democratic opponent, Ken Arnold.
And don't forget that Rohrabacher is backing his fellow racist, Costa Mesa Mayor Allan Mansoor, for the 68th Assembly District, in the GOP primary.   Vote for Phu Nguyen, the Democratic challenger for the 68th, and click here to donate to Nguyen.  There will be no better way to punk Rohrabacher than to ensure that his boy Mansoor loses in November…