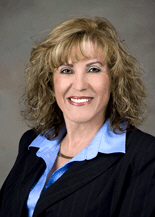 SAUSD School Board candidate Cecilia Aguinaga has been endorsed by the Santa Ana Police Officers Association.
The letter from SAPOA President John Franks stated "Your proven record promoting a strong foundation through education has led us to endorse your campaign."
One of Aguinaga's sons is a retired police officer.  Aguinaga serves as Santa Ana's representative on the Orange County Vector Control District's Board of Trustees, by appointment.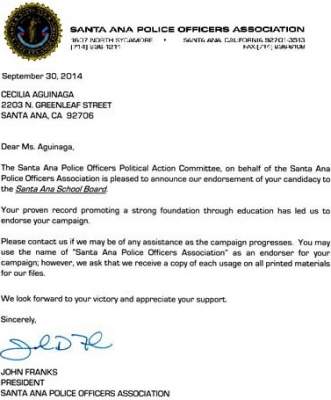 Cecilia's Bio:
Cecilia was born in Jalisco, México and immigrated to the United States in 1978. She has lived more than 40 years in the city of Santa Ana in Orange County California with her husband, Armando Aguinaga. Cecilia and her husband, have two sons (Ramsey and Allan) and a daughter (Sylvia). Ramsey was a police officer for the Santa Ana and Los Angeles Police Departments, and Allan graduated from the Culinary School of the Arts. Their daughter Sylvia graduated from the University of California, Berkeley, and is currently teaching for the Los Angeles Unified School District while simultaneously working towards her Master's degree. Cecilia and her husband have owned a business for more than 50 years in the City of Santa Ana.
Click here to read the rest of her bio.