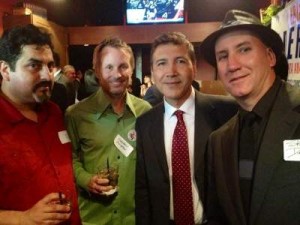 Santa Ana City Council candidate Roman Reyna was not the only candidate that skipped out on the recent Santa Ana Chamber of Commerce Candidates Forum.  It turns out that Council Member Vincent Sarmiento also had better things to do than meet with the city's business owners, according to the Voice of OC.  Even though Sarmiento posted about the forum on his own Facebook page!
To be fair, his opponent, Estela Amezcua, was absent too, but she is not really running much of a campaign.  Sarmiento, on the other hand, just sent voters a four page glossy mailer about himself.
In that mailer he took credit for bringing jobs to our city, and for economic development, but he couldn't find time to meet with our business leaders?  Really?  Didn't Sarmiento recently announce at another forum that he supports every single tax increase on the November ballot?
Remember that Sarmiento voted for the onerous red tape portion of the Sunshine Ordinance – a law that will create more hurdles for those trying to bring jobs and development to our city.  This guy is no friend of business!
And labor hates that part of the ordinance too.  Here is what the Voice of OC reported after that awful vote by Sarmiento:
Construction trade union leaders also publicly opposed the ordinance at the meeting, and while they didn't name specific provisions, the pre-meeting requirement affects construction significantly more than other sections. Union leaders complained that their membership is still suffering the lingering slump of the Great Recession.

"You should be breaking down barriers, not creating new ones. We need jobs," said Jim Adams, Orange County representative of the Los Angeles-Orange Counties Building Trades Council.
How bad is the red tape ordinance Sarmiento voted for?  Here is what the O.C. Register reported:
Jay Trevino, executive director of the city Planning & Building Agency, urged the council to rely on a system in which the city instead would make public its site plan review letter that would incorporate comments and appropriate conditions of approval, and said the ordinance would add about $1,000 to developers' costs. The ordinance will require applicants to provide the city of minutes of such meetings, with public comment and their response that will be made part of the public record.

The council adopted some language, but not all, proposed by the Orange County Business Council and Building Industry Association of Southern California. In a letter, it urged the city to hold the number of community meetings to one, rather than two urged by SACReD. To simplify notification process for those living within 500 feet of specified projects, the council adopted language that said notices shall be provided to all property owners, and at least one occupant per dwelling unit having a valid postal address. The council, for instance, agreed with the organizations that requests for language interpretation be made in writing 48 hours before a community meeting.
It is a hot mess!  It will delay and stop development and kill jobs.  And Sarmiento voted for it – but he blew off the city's businessmen, perhaps, like Reyna, assuming he has victory in the bag.  Well, I won't be voting for him.