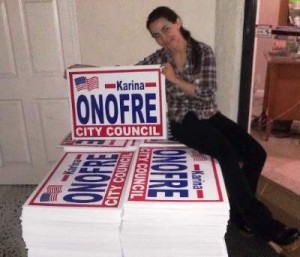 It is hard to believe that the Santa Ana Unified School District's Board of Education, which consists of five Trustees,  includes only one woman – longtime Trustee Audrey Noji.  Or that the Santa Ana City Council only has two women – Mayor Pro Tem Claudia Alvarez and Council Member Michele Martinez.  After November that number will be down to one, as Alvarez is termed out.  There are five men on the Santa Ana City Council.
What is up with that?  Figure that over half of our electorate must be made up of women.  Are they voting?  Are they voting for men?  Are there not enough women running for office in Santa Ana?
Well you can't say that this year.  There are several women running for the Santa Ana City Council.  Karina Onofre is running for Ward 5.  Estela Amezcua is running for Ward 1.  Angelica Amezcua is running for Ward 3.  And Lupe Moreno is running for Mayor of Santa Ana.
There are also three women running for one open seat on the SAUSD School Board, including Valerie Amezcua, who lost when she last ran four years ago; former independent Congressional candidate Ceci Iglesias; and social worker Myriam Tinajero. One of them is going to win, but which one?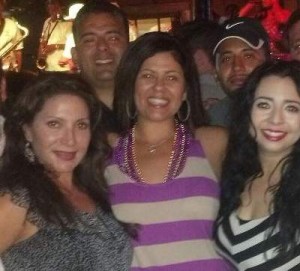 I ran into Council Member Martinez a few weeks ago and she told me that a book she read informed her that Latinas won't vote for women.  They like to vote for men.  Now I think that is rather condescending but Martinez was pretty hyped about it.  In her mind it explained why she lost badly in the June primary, when several male candidates mixed it up with her, for the 69th Assembly District.  Martinez lost badly.
The success of Congresswoman Loretta Sanchez, and her sister Linda, argues against the theory espoused by Martinez.  Women can win and Latinas will vote for them – but they won't vote for every woman on the ballot.  They vote every two years for the Sanchez sisters but they rejected Martinez and will so again in two years…
So can women win in Santa Ana?  Not if you don't vote for them!  And certainly not if they are too liberal.  I will be voting for Onofre and Tinajero, and for the Amezcua sister running in Ward 1.  What about you?