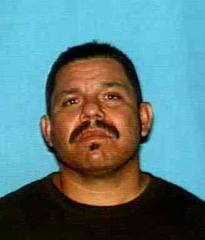 SAPD Advisory: SANTA ANA POLICE DEPARTMENT REQUESTS PUBLIC'S ASSISTANCE IN LOCATING SUSPECT WANTED IN ATTEMPTED MURDER CASE
SUSPECT NAME: David Lupercio Luna DOB: 04-24-70
DESCRIPTION: Male, Hispanic, 5'10, 230lbs, Blk/Brn, last seen without the thick mustache.
TATTOOS/MARKS: "Mexicano"- chest, snake/woman-left bicep, woman-right bicep, unknown writing and a devil on back.
LKA: 300 Block of S. Birch, Santa Ana CA; known to frequent Main/Bishop area.
VEHICLE: Was riding a black, men's bicycle, nfd, after stabbing but recently seen on foot.
SYNOPSIS: On 05-02-12, the victim was in the parking lot of the Dollar Tree (631 S. Main) when he was approached by Luna and stabbed 4 times in the torso and legs, causing serious injury. Luna then rode away on the above mentioned bicycle. Luna and the victim were involved in a verbal argument and the exact motive for the stabbing is unknown. Detectives have checked the last known address and were told Luna has not stayed there for several months. Detectives believe suspect Luna is still in the Orange County area. Luna has a warrant for his arrest in this case Bail: 1,000,000.
Anyone with information on suspect Luna is asked to contact Santa Ana Police Department Homicide Unit Det. Leo Rodriguez at 714-245-8349 or call Orange County Crime Stoppers at 1-855-TIPS-OCCS
###
For full details, view this message on the web.