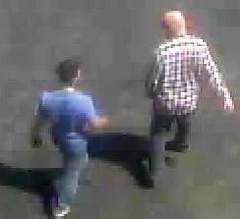 Santa Ana Police Department
Advisory: SAPD Robbery Detective's request media and public assistance in identifying suspect
Location: Parking Lot between Big-O Tires and In & Out Burger, 3365 S. Bristol, Santa Ana CA 92704
Suspect: Male/White/35-45/5'10"/250 lbs./heavy build/short blonde receding hair/ wearing plaid shirt
Suspect Vehicle: Late 90 to early 2000, Red, Chevrolet, Silverado, Extra cab.
Occurred on: Friday, May 8, 2015 at approximately 1:47 P.M.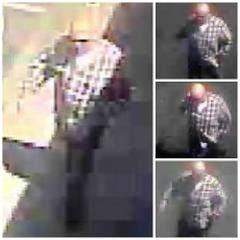 Summary: The victim advertised gift certificates on Craig's List, the suspect responded to the ad and met the victim in a parking lot. At the time of the exchange (money for the certificates) the suspect handed the victim the money in an envelope and the victim handed the certificates to the suspect who was seated in his truck. The victim saw the money and realized it was counterfeit and told the suspect to hold on. The suspect started to flee the parking lot and the victim grabbed onto the truck door yelling at him to stop. The suspect dragged the victim into the street and fled the area while the victim let go and sustained minor injuries.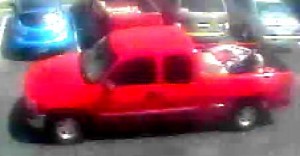 Anyone with information on this suspect is asked to contact SAPD Robbery Detective A. Garcia at 714-245-8408 or Orange County Crime Stoppers at 1-855-TIP-OCCS.
###