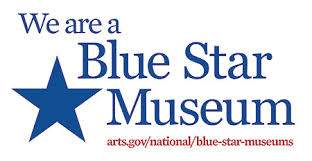 FOR IMMEDIATE RELEASE
CONTACT: Victor Payan, Latino Audience Engagement Specialist, Vpayan@bowers.org, 714-567-3645
Bowers Museum Offers Free Admission for Active Duty Military Personnel And Their Families May 25 to Sept. 7 as Part of Blue Star Museums Program
The Bowers Museum in Santa Ana is offering free admission for active duty military personnel and their families from May 25 to September 7 as part of the Blue Star Museums program.
The Blue Star Museums program is a collaboration between the National Endowment for the Arts, Blue Star Families, the Department of Defense, and more than 2,000 museums across the United States that offer free admission to all military personnel on active duty and their families from Memorial Day through Labor Day 2015.
During this period, active duty military personnel and their families visiting the Bowers can enjoy a number of special exhibitions, including Qi Baishi: China's Modern Master; Adams, Curtis and Weston: Photographers of the American West and The 1968 Exhibition: The Year that Changed the World, which opens June 13.
Additionally, the Bowers Museum offers several permanent exhibitions including California Legacies: Missions and Ranchos (1768-1848), Ancient Arts of China and First Californians, an exhibition relating to California's indigenous people.
The Bowers Museum is one of the cultural treasures of Southern California. Inside the museum, visitors will find superb exhibitions representing the best of art and culture in the world. In addition, the Bowers Museum has a fascinating schedule of presentations, movies and monthly cultural festivals for the whole family.
Founded in 1936, The Bowers Museum has been voted "the best museum in Orange County" by readers of the Orange County Register for 16 consecutive years.
Located at 2002 N. Main St. in Santa Ana, the Bowers Museum is located in the heart of Orange County, and is easily accessible from the 5, 55, 22 and 57 freeways.
The Blue Star Museum free admission program is available to any bearer of a Geneva Convention common access card (CAC), a DD Form 1173 ID card, or a DD Form 1173-1 ID card, which includes active duty U.S. military – Army, Navy, Air Force, Marines, Coast Guard, as well as members of the National Guard and Reserve, U.S. Public Health Service Commissioned Corps, NOAA Commissioned Corps – and up to five family members.
THE BOWERS MUSEUM
The Bowers Museum has earned an international reputation through its world-class exhibitions, including Warriors, Tombs and Temples: China's Enduring Legacy, Terra Cotta Warriors: Guardians of China's First Emperor, Secrets of the Silk Road, and Mummies – Death and the Afterlife: Treasures from the British Museum, as well as its own extensive art collections from throughout the Americas and the South Pacific.
Additionally, the Bowers' Kidseum, located one block south of the main museum, offers a high-tech and interactive focus on its new mission of "Igniting Imagination through Exploration" spotlighting the excitement of art and archaeology.
Enjoy a leisurely luncheon at our award-winning restaurant, Tangata. Outdoor seating is also available, overlooking the Bowers historic mission-style courtyard from 11 a.m. to 3 p.m. Browse the rare and exotic at the Bowers Museum Gallery Store. It's more than just a shopping trip—it's a cultural experience.
Bowers Museum and Kidseum are closed on Mondays, Independence Day, Thanksgiving, Christmas Day, and New Year's Day. Regular operating hours: Tuesday through Sunday, 10 AM to 4 PM.
For more information, please visit www.bowers.org or www.bowers.org/en-espanol, or call 714-567-3600.
###