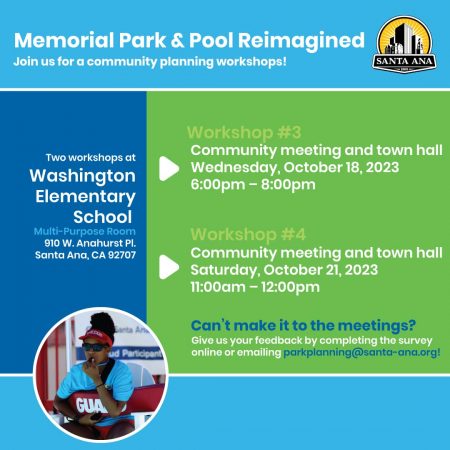 New and exciting improvements are coming to Santa Ana's Memorial Park & Pool!
The City of Santa Ana is excited to bring you a much-needed and brand-new aquatics center at the Memorial Park Pool.
This "Memorial Park & Pool Reimagined" capital improvement project will be executed in partnership with the firm ELS Architecture + Urban Design and SWA Group. Prior to the design process of this project, the City of Santa Ana and ELS + SWA will be conducting additional community outreach meetings at Washington Elementary School in the multi-purpose room:
Wednesday, October 18, 2023 from 6pm to 8pm
Saturday, October 21, 2023 from 11am to 12pm
The entire community is invited to join us and share suggestions on the plans for this project. If you are unable to attend the meetings in person, online surveys will be available to provide feedback and you can submit feedback via email at parkplanning@santa-ana.org.
For more details and information, follow the link https://www.santa-ana.org/memorial-park-pool-reimagined/.