HIGH DEMAND FOR MEATHEAD MOVERS SERVICES IN ORANGE COUNTY MEANS IMMEDIATE JOB OPENINGS FOR 50 STUDENT ATHLETE MOVERS
Meathead Movers Seeks Student Athletes to Join the Jogging Movers and Get Paid to Work Out
SANTA ANA, Calif. – September 2, 2016 – Close to the three year mark since its expansion into Orange County, Meathead Movers, the student athlete moving company committed to a superior employee- and client-centric moving experience, is already on the fast-track for a busy moving season this fall. The Inc. 5000 fastest growing company for several consecutive years is seeking at least 50 enthusiastic "Meatheads" and "Princess Packers" to join the Orange County team immediately. As the company continues to revolutionize the moving industry, Meathead Movers maintains its founding principle of supporting student athletes through mentorship, training and experience that will make them stronger and better equipped to achieve success in their lives.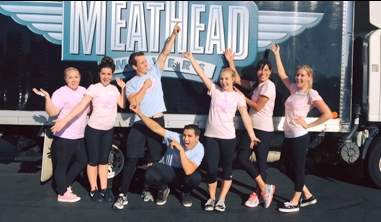 In addition to gaining invaluable experience from the already esteemed team of Meathead Movers, team members are provided unique personal and professional development opportunities, including:
• Get paid to work out: As the moving company known for jogging when not carrying items, student athletes are running and lifting, all while saving customers' time and money. The company also features a weight room in its Santa Ana facility for team members to get a workout in during their down time.
• Tip potential on every job: In addition to regular compensation, plus bonuses and incentives, Meatheads have the opportunity to earn tips on every single job.
• Flexible schedules: College students and athletes are busy and Meathead Movers understands how hectic their schedules can be. Management works around games, practices and tests to make sure team members are able to focus on school and athletics, while developing skills for their future careers.
• On-site computer labs: Because Meathead Movers is hiring students, it is essential to maintain good grades and keep an updated resume. Management acts as mentors and helps balance work, school and sports, while coaching students every step of the way to reach their full potential.
• Professional massages: Heavy lifting can often cause joint and muscle pain. Meathead Movers provides the team with massages by professional therapists.
• Incentives: Careful and skillful team members are rewarded with incentives, such as flat screen TVs, BBQ grills, UFC tickets and vacations, just for doing the job well and taking exceptional care of customers.
• Make a meaningful contribution to the community: Meathead Movers is committed to utilizing its talents to help those who need it most. With the alliance of the local women shelters in each operating service area through its #MoveToEndDV commitment, Meathead Movers pledges to move victims of domestic violence situations for free.
To apply, visit the Santa Ana office, located at 2430 South Grand, Suite A, Santa Ana 92705, or apply online here. The hiring process consists of a detailed application, an in-person interview, passing of a criminal background check and a drug test.
About Meathead Movers
Since 1997, Meathead Movers has taken the simple philosophy of superior customer service and parlayed it into a thriving and growing company that has changed the way people perceive the household moving and storage industry. Founders and brothers, Aaron and Evan Steed, manage a team of energetic student athletes who deliver a unique customer service experience with a relentless drive to make great things happen. Meathead Movers currently handles more than 10,000 local moves per year with more than 350 employees, making it the largest independent moving company in the state. For more information about Meathead Movers, visit: www.meatheadmovers.com.