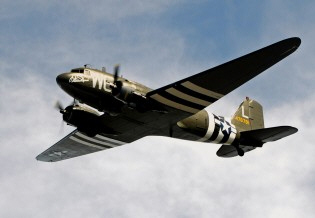 SANTA ANA, Calif., Nov. 8, 2011—Lyon Air Museum, a premier Southern California showcase for vintage military aircraft and automobiles, will celebrate its second anniversary on Sat., Dec. 10, 2011.
Santa Claus will be onsite, as visitors are invited to tour the authentic interior of the Douglas C-47 military transport aircraft "Willa Dean" and watch as it takes flight for a crowd-pleasing flyover.
Additionally, Museum management is requesting that all visitors bring an unwrapped toy of at least $10.00 in value for "Toys for Tots" Holidays gift-giving program.
Lyon Air Museum, which is located on the west side of the runway at John Wayne Airport in Orange County, opens at 10 a.m. Santa will be available for pictures with children from 11:30 a.m. to 1:30 p.m. (bring your own camera). Then (weather permitting), as part of the Museum's ongoing "History Takes Flight" program, the "Willa Dean" – a gem among Lyon Air Museum's aircraft collection – will take off at 2 p.m.
During World War II, the C-47 was the primary aircraft used on D-Day (June 6, 1944). Additionally, the armed forces of many countries used the C-47 and modified DC-3s for the transport of troops, cargo and wounded.
"Our second anniversary milestone affords us the opportunity to review the Museum's steady growth as an increasingly popular Southern California destination attraction," said Mark Foster, president of Lyon Air Museum. "Flying the 'Willa Dean' makes the day all the more special. The plane has had a long and successful service life dating back to World War II, so this day provides a great chance for Museum visitors to get a rare glimpse of one of the most complete and original C-47s still in operation."
The 30,000-sq.ft. Lyon Air Museum opened in Dec. 2009. The facility represents the fulfillment of a dream of Maj. Gen. William Lyon, USAF (Ret), who held the position of Chief of the U.S. Air Force Reserve from 1975 to 1979. Currently, Gen. Lyon is Chairman of the Board and CEO of William Lyon Homes, Inc., Newport Beach, Calif. His passion for aviation history and youth education is the driving force behind Lyon Air Museum. In establishing the museum, Gen. Lyon sought to create a world-class facility that would be available to the local community and would offer educational displays to inspire young people. The museum has on exhibit some of the world's rarest operational aircraft and vehicles.
Lyon Air Museum is located at 19300 Ike Jones Road, Santa Ana, CA 92707. P: 714/210-4585. F: 714/210-4588. Email: info@lyonairmuseum.org. Web: www.lyonairmuseum.org.
Hours of operation are daily from 10 a.m. to 4 p.m. Admission rates: General admission–$12; Seniors and Veterans–$9; Ages 5-17–$6; Under age 5—Free. Groups of 10 or more–$1 off each visitor. Pre-arranged school groups—Free.
Media Contact:
Ned Madden
Rodheim Marketing Group
949/547-0143