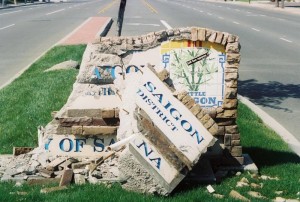 Do you remember the brouhaha that broke out more than a decade ago when a sign was erected on Santa Ana's west side that welcomed drivers to the "Little Saigon Business District?"  The Usual Suspects were upset about the sign – calling it divisive and worse. (Ironically these same people are now upset about the proposed DTSA Wellness District).
Well bad news for the Usual Suspects – the Santa Ana City Council has unanimously approved restoring the monument near First Street and Harbor Boulevard that was wrecked by a vehicle in 2008, according to the O.C. Register.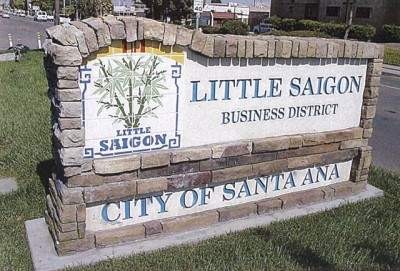 What the Register did not tell their readers is that Santa Ana Planning Commissioner Sean Mill and I came up with the idea to restore the sign, during a phone conversation a few months ago.  I mentioned to Mill that it would be awesome to rebuild the sign and he took the ball and ran with it.  Mill talked to his contacts in Little Saigon and brought the idea to Santa Ana City Manager David Cavazos, who fully supported rebuilding the sign.
Mill's contacts are forming a Little Saigon Business District Committee which will be paying to restore the monument sign.
The Vietnamese community in Santa Ana has really come to the forefront in our city – becoming an active political force that last year helped to elect State Senator Janet Nguyen and O.C. Supervisor Andrew Do.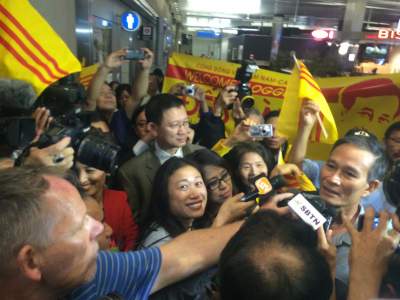 Our Vietnamese-American residents actually have a lot in common with our Mexican-American residents in that many people from Vietnam and from Mexico grew up in agrarian settings – working on farms.  And both cultures highly value families and children.
One difference between the two cultures is that our Vietnamese-American neighbors greatly value education while many Latino children in Santa Ana have under-educated parents and don't do well in school.  Santa Ana's graduation rates, overall, are miserable, as is our high dropout rate.  And very few of our residents have college degrees.  In fact less than 3% of our residents have graduate degrees.
The Little Saigon community originally started emerging in Westminster, and quickly spread to the adjacent city of Garden Grove, according to Wikipedia. Today, these two cities rank as the highest concentration of Vietnamese-Americans of any cities in the United States at 37.1% and 31.1%, respectively (according to the 2011 American Community Survey).
Despite its original roots along the bustling Bolsa and Brookhurst corridors, the borders of Orange County's Greater Little Saigon community has grown to nearby cities. Today, Little Saigon is considered roughly a 4-square mile area bordered by Trask Avenue (north), McFadden Avenue (south), Magnolia Street (west) and Euclid Street (east). It includes parts of Westminster, Garden Grove, Santa Ana, Fountain Valley, Huntington Beach and Anaheim, according to the O.C. Register.