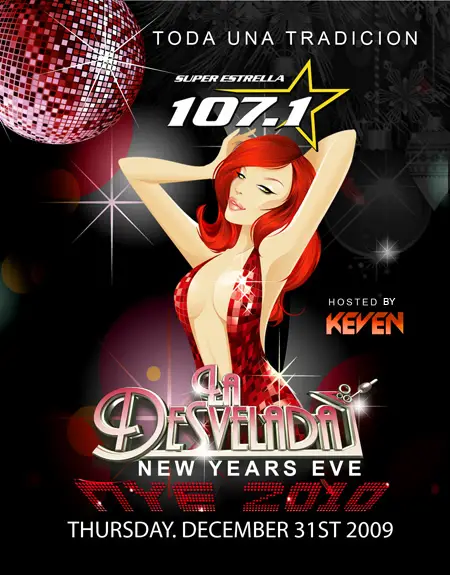 Santa Ana's Galaxy Concert Theater is hosting what should prove to be the hottest Latino New Year's Eve event in Orange County – the 7th Annual Super Estrella's La Desvelada 2010 New Year's Eve Bash, which will take place from 8 pm to 2 am.
During the past seven years La Desvelada has created some very memorable performances as well as a strong fan base following.  This has made La Desvelada, a New Year's Eve tradition among the young and affluent latino community in Southern California.

Super Estrella's fans know there are few experiences in life more entertaining than the pure energy and atmosphere from the production at La Desvelada, with dynamic artists such as Confetti, Balloons, Showgirls and V/DJ's Luis, who will mix music videos as well as lead the celebration climax to the New Year's Eve 2010 countdown.
This is your chance to welcome the New Year at the hottest Latino event of the year!
Click here to find out more about the event and click here to make your reservation.  Tickets start at $40 per person.  21 and over only.
The Galaxy Theater is located at 3503 S Harbor Blvd in Santa Ana. Click here for directions.  Telephone: (714) 957-0600.