City of Santa Ana, Downtown Orange County
Community: 2016 Cinco de Mayo Festival / Festival Anual de Cinco de Mayo
The City of Santa Ana's 17th Annual Cinco de Mayo Festival is taking place on Saturday, April 30th and Sunday, May 1st. The festivities begin at 12 noon each day on Fourth Street in historic Downtown Santa Ana. This annual tradition celebrates Santa Ana's vibrant Mexican culture with live entertainment including top level performers each night, delicious food, affordable shopping, interactive art activities, and exciting carnival rides for children of all ages. The Festival will also include the "Plaza de la Cultura," a visual art display commemorating the history of Cinco de Mayo as well as a beer garden (for adults only) to enjoy cold, refreshing beverages.
On Saturday, April 30th, the highly popular Kevin Ortiz will be performing on the Festival's main stage. Kevin Ortiz is a Latin pop singer from Pasadena, California. At a young age, he began playing accordion, learning polkas, rancheras, and conjuntos. Recipient of the Univision Youth Revelation Award, Kevin Ortiz is a talented artist you will not want to miss!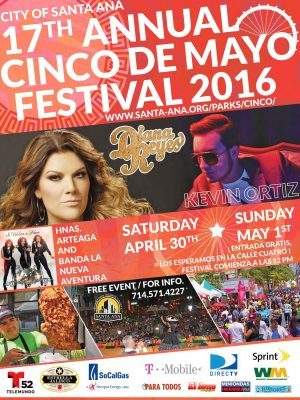 Joining Kevin Ortiz on the main stage on Saturday April 30th, are the beautiful and talented Hermanas Arteaga. Back by popular demand, this musical trio from the great state of Zacatecas will bring the best of Mexican regional music to this year's event. The sisters will be performing with the ever popular Banda La Nueva Aventura.
On Sunday, May 1st, soulful singer Diana Reyes's performance will be the Festival's culminating act. Born in Puerto de la Paz in Baja California, Reyes recorded her first norteño record at the age of eight. Performing throughout the early '90s, she gained the attention of important figures in the regional Mexican music world. Her first full-length record entitled A Todo Norte opened doors all throughout her family's home state of Sinaloa. Her third gold record was released in 2007, entitled Te Voy a Mostrar. Come see this powerhouse singer light up the stage!
The Cinco de Mayo event is produced by the City of Santa Ana. Booths and sponsorship opportunities are still available. For more information, please contact the Parks, Recreation and Community Services Department at (714) 571-4227.
+++++++++++++++++++++++++++++++++++++++++++++++++++++
Festival Anual de Cinco de Mayo
La Ciudad de Santa Ana celebrara el 17o Festival Anual de Cinco de Mayo el Sábado, 30 de Abril y el Domingo 1ro de Mayo, 2016. Las festividades darán inicio ambos días a las 12 del medio día en la Calle Cuatro en el centro histórico de Santa Ana. Esta tradición anual celebra la vibrante cultura Mexicana en Santa Ana con entretenimiento incluyendo artistas de primer nivel cada noche, comida deliciosa, artesanías tradicionales, y actividades interactivas incluyendo grandes juegos mecánicos para niños de todas las edades. El Festival también incluirá la "Plaza de la Cultura", una exhibición de artes visuales conmemorando la historia de Cinco de Mayo, así como un jardín de cerveza (abierto sólo para adultos) para disfrutar bebidas refrescantes.
El sábado, 30 de Abril, el altamente popular Kevin Ortiz se presentará en el escenario principal del Festival. Kevin es una cantante de pop latino de Pasadena, California. Desde joven, Kevin comenzó a tocar el acordeón, aprendiendo polkas, rancheras y conjuntos. Recipiente del Premio Revelación Juvenil de Univisión, Kevin Ortiz es un talentoso artista que usted no se querrá perder!
También en el escenario principal el sábado 30 de abril, regresaran la bellas y talentosas Hermanas Arteaga. Nuevamente por demanda popular, este trío musical del gran estado de Zacatecas nos trae lo mejor de la música regional mexicana. Las hermanas se presentarán con la Banda La Nueva Aventura.
El domingo 1 de Mayo, la espectacular cantante Diana Reyes cierra con broche de oro el Festival. Nacida en La Paz, Baja California, Reyes grabó su primer disco de música norteña a la edad de ocho años. Durante los años 90, ella ganó la atención de importantes figuras de la música regional mexicana. Su primer disco, titulado A Todo Norte, abrió puertas en Sinaloa, el estado de su familia. Su tercer disco de oro fue lanzado en 2007, titulado Te Voy a Mostrar. ¡Venga a ver a esta cantante iluminar el escenario en esta celebración!
El evento Cinco de Mayo es producido por la Ciudad. Para más información sobre el evento, favor de llamar a la Agencia de Parques, Recreación y Servicios Comunitarios al (714) 571-4227.