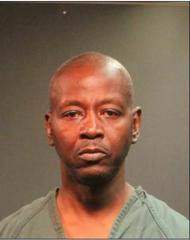 Santa Ana Police Department
Advisory: SAPD Dets. Arrest Youth Pastor for Aggravated Sexual Assault of a Minor, Believe There May Be Additional Victims
On October 2, 2018, Santa Ana Police Detectives arrested Jonathan Lamont Jenkins (57-years-old), a resident of Riverside, for Aggravated Sexual Assault of a Child. Jenkins has been a youth pastor at the Starlight Baptist Church located at 1201 West Second Street in Santa Ana for the past two years. Jenkins has been a member of the church since 2012.
The 13-year-old female victim reported Jenkins had been making sexual advances towards her since January 2018 when she was only 12-years-old. Sometime in March 2018, the victim was attending service when she went to, what she believed to be, an empty restroom. Jenkins was inside the restroom waiting for the victim. The victim attempted to escape, but Jenkins held her against her will. Jenkins threatened the victim with physical violence before strangling and sexually assaulting the victim.
The victim did not immediately report this incident and continued attending church. On August 5, 2018, Jenkins contacted the victim at church and mocked her about the sexual assault. Jenkins told the victim if she reported this to the police, he would say she allowed the sexual assault to occur.
Detectives launched an investigation and obtained evidence against Jenkins. On October 2, 2018, Detectives arrested Jenkins as he entered a liquor store in Santa Ana. Jenkins was booked at the Orange County Jail on multiple child abuse charges and his bail has been set at $1,000,000.
Santa Ana Police Department Detectives believe there may be additional victims and ask anyone with information to contact Detective Nick Vega at 714-245-8368, nvega@santa-ana.org or Orange County Crime Stoppers at 1-855-TIP-OCCS.