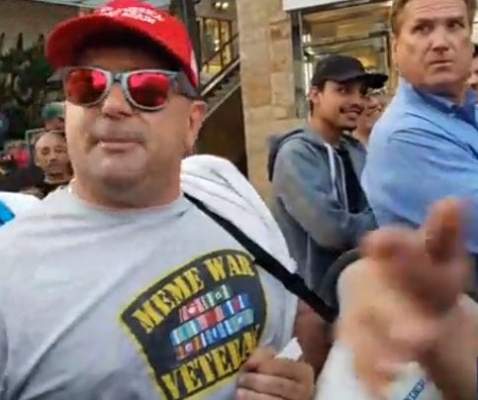 Do you remember the Trumper Kim Michael Sorgente, who was accused of hitting another person over the head with a megaphone at a Dec. 6, 2020 "Stop the Steal" rally in Santa Ana? Well he is in trouble again.
Federal agents arrested Sorgente on Monday. They said that he was seen fighting with police officers on the steps and in a tunnel behind the inaugural platform of the U.S. Capitol Building during the Jan. 6 attack by thousands of supporters of then-President Donald Trump, according to the O.C. Register.
Sorgente apparently kept calling the U.S. Capitol police officers "traitors."
The U.S. Attorney's Office charged Sorgente with one count each of obstructing police officers during a riot, entering a restricted building and disorderly conduct inside a restricted building. He faces 15.5 years in prison if convicted of all charges.
Sorgente was arrested by SAPD police officers in March for the incident that happened in Santa Ana. The Orange County District Attorney's office charged Sorgente with two counts of assault with a deadly weapon. He was later released in June after posting a $100,000 bond.