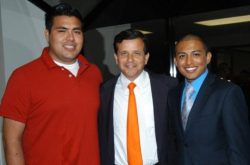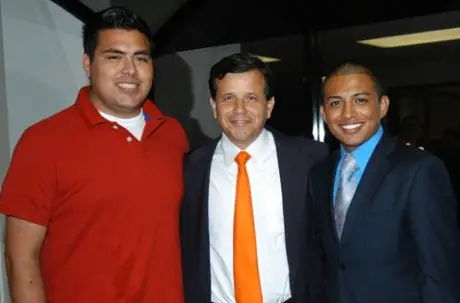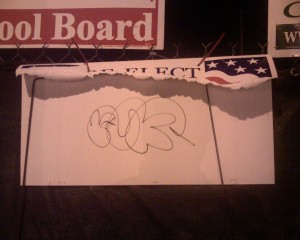 A couple of Santa Ana College students have taken the initiative of opening a new business, right here in Santa Ana.  The venture is called iDentify pLacements.  The idea behind this is simple – political candidates spend a fortune making their campaign signs, but who puts the signs up and makes sure they go up legally and are taken down after the campaign?
That is what Alex Flores and Richard Santana are proposing to do.
Now you think this might be easy, but it isn't!  Cities have different ordinances governing where the signs can go – and knowing where to put them and how to put them up safely is what Flores and Santana are experts at.
Here is a press release announcing this new business: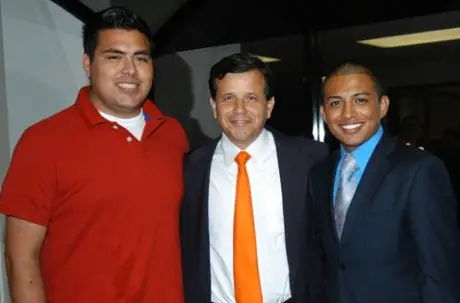 From Left to Right: Richard Santana, Santa Ana Mayor Miguel Pulido and Alex Flores
iDentify pLacements Announces Grand Opening
Making Election Candidates Visible to the Public by Strategic Campaign and Election Sign Placement!
Santa Ana, California (July 1, 2010) – iDentify pLacements, a professional campaign and election sign placement company, is proud to open their doors to elected officials up for re-election and candidates seeking public office.
Finding and influencing voters is a critical element to any election and campaign. The wrong placement of campaign and election signs could possibly cost candidates heavy fines due to sign placement regulation infractions; or the election win, because their campaign or election sign was not positioned effectively.
"Too often running candidates miss the attention of thousands of potential supporters and future voters by not strategically placing a campaign or election sign for maximum exposure," says Alex Flores, co-owner of iDentify pLacements. "Even worse, a candidate can risk monetary fines if their election signs are not in accordance with specific regulations. We take care of all of that for them!"
Since 2006, the owners Alex Flores and Richard Santana, have been volunteering with different campaigns for the local school district and city council. Additionally, they are current elected officials for Santa Ana College student body. Through their experiences they have gained an amplified understanding of strategic sign placement for electoral campaigns. Flores and Santana have learned how to maximize the effectiveness of campaigns through demographic targeting, height placement, sign angle, impact and timeliness.
The campaign and election sign placement service is available throughout Orange County, California. In addition to the strategic placement of campaign and election signs, iDentify pLacements promptly collects all signs once the campaign or election activity is complete.
About iDentify pLacements
iDentify pLacements is located in Santa Ana, California and is owned and operated by Alex Flores and Richard Santana. Their mission is to make a candidate visible to members of the public through campaign sign identification and recognition. iDentify pLacements' success is based on their massive involvement and support within the community along with their high-level of achievements in student body political activity. The company is nonpartisan and they believe in networking and building relationships even beyond each campaign. To inquire about iDentify pLacements' services; contact them at 714-227-8616.