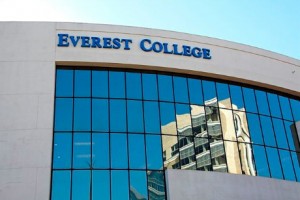 CONTACT: Ron Neal/Joanne Sibug, PondelWilkinson Inc., (310) 279-5980
Santa Ana Student Wins Annual Dream Award Scholarship
Everest College Honors William Banks For Exceptional Leadership Skills
SANTA ANA, Calif., Jan. 24, 2013 – Everest College–Santa Ana graduate, William Banks, has won the
school's 2012 Dream Award, which acknowledges graduates for overcoming extraordinary challenges
and demonstrating exemplary leadership.
Success did not come easy for Banks, 31, whose mother passed away when he was half way through the
medical assistant program at Everest. But after missing only four days of school to make peace with his
mother's passing, Banks was back at Everest with the focus and resolve to make her proud.
"His determination to overcome a challenging moment in his life is truly inspiring," said Lisa Rhodes,
president of Everest College-Santa Ana. "Banks is an excellent example of someone who faces a major
obstacle, and channels that energy into achieving his dreams."
As part of the medical assistant program, Banks received hands-on training and completed an
externship. His stellar performance and commitment paid off with a glowing letter of recommendation,
and shortly after graduation, Everest's career services team helped Banks launch his career as a medical
assistant at the OC Male Medical Clinic.
Banks acknowledges that school was never his strong suit, but Everest's medical assistant diploma
program provided an education to a fast-track career path.
"School was never something that provided opportunities for me, but that all changed when I attended
Everest College," Banks said. "I was able to receive a great education and hands-on training in a field
that is exciting and rewarding, and now I have a solid job to prove that my medical assistant diploma has
paid off."
As a Dream Award winner, Banks will receive a $2,500 Everest College scholarship to pursue an
advanced program in his field of study.About Everest College Everest College provides career-oriented diploma and degree programs in healthcare, criminal justice, skilled trades, business, paralegal, and information technology.
Programs vary by campus. Everest College has 12 campuses in the Southern California area – Alhambra, Anaheim, City of Industry, Gardena, Los Angeles, Ontario, Ontario Metro, Reseda, Santa Ana, San Bernardino, Torrance, and West
Los Angeles. Everest has nearly 100 schools in the U.S. and Canada, and is owned by Corinthian Colleges,
Inc., one of the largest post-secondary education companies in North America. For more information,
visit www.everest.edu. For more information about our graduation rates, the median debt of students
who completed the program and other important information, please visit our website at
www.everest.edu/disclosures.
###