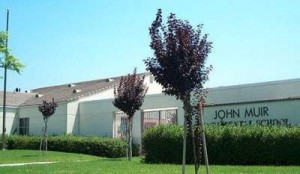 UPDATE: My son reports that many of the fifth graders in the classroom that included the pellet gun shooter knew the attack was coming – including the victim – but no one knew who the target was, and none of the students reported this to their teacher…
A sad story is developing at John Muir Fundamental Elementary School – one of the top schools in the Santa Ana Unified School District.
Apparently a fifth grader brought a pellet gun to school and waited for his victim to come his way.  The shooter is now suspended, for five days, while the Santa Ana School Police investigate the matter to determine what happened and if "criminal intent can be alleged and/or proven or whether this matter will be resolved administratively by the on site Administration along with concurrence by our Student Support Services division to address the behavior of the student(s) involved," according to the SAUSD School Police Chief, David Valentin, who responded tonight to my queries, via email.
I am told that pellet guns, like BB guns, are not considered to be actual guns, when schools have to deal with these types of incidents.
I don't know if the victim in this scenario was injured.  Pellet guns can cause major eye damage but don't generally cause anything more than a small welt if someone is shot, accidentally or on purpose.
That said, according to California Penal Code 246.3 PC, BB and pellet guns are indeed firearms:
Negligent Discharge of a Firearm
A "firearm" is "any device, designed to be used as a weapon, from which is expelled through a barrel, a projectile by the force of any explosion or other form of combustion."
A BB device is "any instrument that expels a projectile, such as a BB or a pellet, through the force of air pressure, gas pressure, or spring action."
What makes this incident scary is the allegation of a student essentially lying in wait for another student.
I feel bad for both families involved in this matter.  One of my own sons was expelled from this same school many years ago, for emotional disturbances.  I am happy to report that he improved once he was registered in a private school under the SAUSD Special Education program and he is now doing great.  But we too had to deal with the same mess that the family of the boy with the pellet gun is going through now.  I would not wish that on anyone.
I have a nine year old at Muir Fundamental Elementary now.  He went to bed tonight at 10 pm because of the incredible amount of homework he and the other kids in the Muir GATE program have to contend with.  I am grateful he was not harmed by the child with the pellet gun.
Parents will I am sure demand that the boy with the pellet gun be expelled.  I can say from personal experience that if indeed this incident happened as described above (and I am told that an administrator at that school confirmed this incident to another parent) then yes a suspension won't cut it.  But I do hope that the child in question and his family get the help they need.
What would compel a fifth grader to do something like this?  God only knows.  We live in scary times and there are a lot of kids who need more help than regular school teachers and administrators can provide.