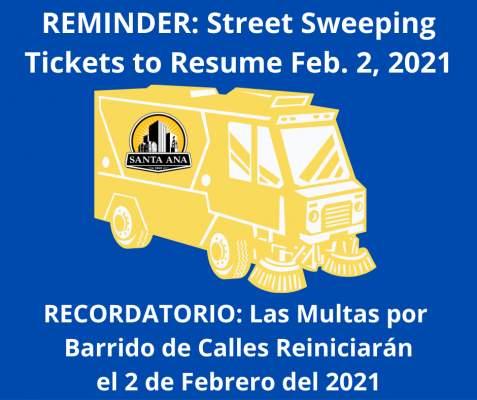 The City of Santa Ana will resume issuing street sweeping tickets on Tuesday, Feb. 2, 2021.
The City stopped issuing street sweeping tickets in December during the Governor's Stay-at-Home Order to help the public comply. That order ended on Jan. 25
Multas por Barrido de Calles Reiniciarán el 2 de Febrero del 2021
La Ciudad de Santa Ana reiniciará las multas por barrido de calles el martes 2 de febrero del 2021.
La Ciudad dejó de emitir multas por barrido de calles en diciembre durante la Orden de Quedarse en Casa del Gobernador para ayudar al público a cumplir. Esa orden terminó el 25 de enero.