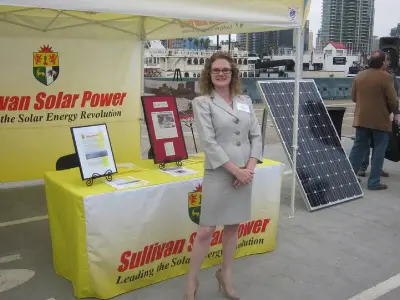 News Release, FOR IMMEDIATE RELEASE
For More Information: Anne Bessinger, Community Developer, 1-800-SULLIVAN ex.214
March 27, 2012
SANTA ANA SOLAR PROGRAM COMING TO A CLOSE
Citywide Cash-back Incentive Program Nears End
SANTA ANA, CA (March 27, 2012) – Santa Ana's Solar Program is an innovative program that allows residents to go solar for no upfront cost and receive substantial cash-back awards for their involvement. With a few weeks left in the program, residents are able to receive up to ten percent cash-back incentives.
This program, created and exclusively offered by Sullivan Solar Power, gives Santa Ana and North Tustin home and business owners the opportunity to save thousands of dollars on solar power systems. The cash-back incentive offered comes on top of the state rebate, federal tax credit, and monthly electric bill savings.
"I believe saving the environment is the proper thing to do and solar is one way I can directly contribute to helping the environment," said Earl Beauvais, resident and Santa Ana Solar Program participant, "We can use the sun to create our power."
Sullivan Solar Power ran a similar incentive program in the city of Irvine last year. In the closing weeks of the Irvine program, more than 60% of the participants signed up to go solar. The Irvine Solar Program ended with 113,000 Watts of solar in the community, the largest collective deployment in the city's history. Sullivan Solar Power is paying Irvine residents over $40,000 collectively for going solar as a result of this program's success.
"The Santa Ana Solar Program is on track to have a similar success, we are confident the Santa Ana program will hit the first milestone of 5% cash-back for all participants," said Daniel Sullivan, Founder and President of Sullivan Solar Power, "Participants literally get paid to go solar with this program."
To schedule a free site evaluation for your property, call 1-800-SULLIVAN. In order to be eligible to receive Santa Ana community incentives, participants must sign up by May 4. Additional information on the program can be found by visiting www.SantaAnaSolarProgram.org.
About Sullivan Solar Power
Sullivan Solar Power is a turnkey solar system provider that delivers solar electric projects from concept to completion. The company has installed over 8,000,000 watts of solar power ranging from small-scale residential to large-scale commercial and municipal systems. Sullivan Solar Power is locally based out of Irvine, CA and owned and operated by Daniel Sullivan. The firm is San Diego's number one local turnkey solar provider and services all of Southern California. Regardless of project size and scope, Sullivan is committed to delivering the best products and the most qualified professionals to its customers. Visit www.sullivansolarpower.com for more information.
###