Backers of the campaign to recall Santa Ana City Councilwoman Ceci Iglesias have put signs up in a Caltrans work area on N. Main St. and Edgewood, at the 5 Freeway. This is a blatant violation of the Santa Ana political sign ordinance which prohibits putting signs up in public areas. This work zone is also off limits to the public so the recall campaign supporters engaged in trespassing when they put up these signs.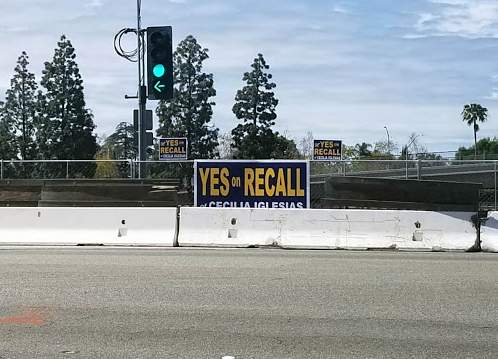 I reported this on the MySantaAna phone app this morning. I expect the signs will be taken down soon.

This is the type of behavior I have come to expect from the recall supporters, who are mostly NIMBYs from the Park Santiago neighborhood and disgruntled members of the Santa Ana Police Officers Association.
The NIMBYs are upset because Iglesias voted to support the development of a luxury apartment building at 2525 N. Main St.
The police officers are upset because Iglesias refused to support their huge pay raise, which passed without her support.
Iglesias was actually instrumental in convincing the developer to greatly reduce the density of this project.
In related news we posted a video, above, of paid signature gatherers who were collecting signatures at Santa Ana College on a related ballot referendum, to overturn the City of Santa Ana's approval of the 2525 N. Main St. development. The signature gatherers can be heard in the video telling voters that this project will displace the Discovery Cube – a blatant lie as this project will actually result in the Discovery Cube gaining access to badly needed additional parking spaces at 2525 N. Main St.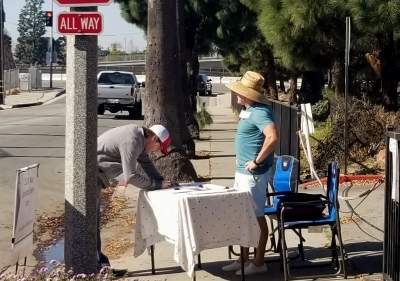 We also caught the signature gatherers blatantly blocking a public sidewalk in the Park Santiago neighborhood, by the 2525 N. Main St. property. That violation was also reported on the MySantaAna phone app.
The entitled NIMBYs who are supporting these ballot referendums are clearly willing to break the law to get their way. Santa Ana's voters should remember this when the recall election comes up on May 19.
These same NIMBY's by the way are currently lying again, on the Nextdoor website, about a recent killing that took place at Santiago Park. The killing happened at the entrance to that park, as a group of suspects attacked and killed a homeless man. The NIMBY's right away blamed the 2525 N. Main St. development for this murder.
In reality if the 2525 N. Main St. project was actually progressing it would currently be in the framing state and there would be security around the clock. There would be less crime in the Park Santiago neighborhood.
The NIMBY's recalcitrance and obstinance has actually made the Park Santiago neighborhood less safe!