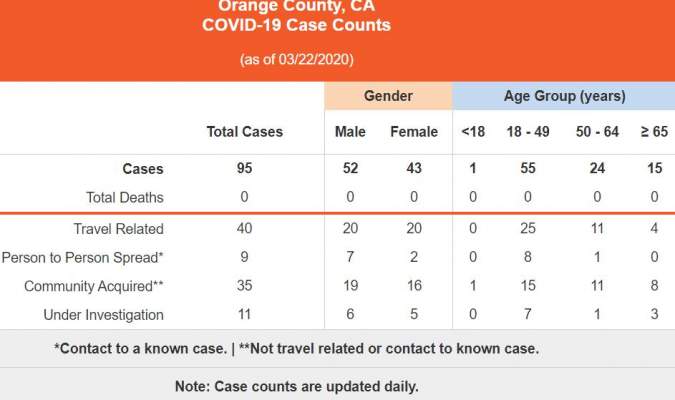 The Orange County Health Care Agency is now reporting 95 cases of COVID-19 in Orange County as the pandemic emergency continues.
Thirty five of these cases are deemed to be Community Acquired and 11 are still being investigated.
The overwhelming majority of these cases are in the 18-49 age group with 55 such cases identified.
In related news, the California Department of Public Health today announced that California now has 1,468 confirmed cases of COVID-19. Over one thousand of those cases have been in the 18-64 age group.
As of 2 p.m. PDT March 21, approximately 26,200 tests had been conducted in California. This includes the latest numbers California has received from commercial and private labs. At least 13,467 results have been received and another 12,700+ are pending. Twenty-two state and county health labs are currently testing.
President Donald Trump also announced that he has activated the National Guard to help out in combating this disease here in California.
Here is what the National Guard is reporting that they are already doing across the nation to fight against COVID-19:
The New York National Guard is helping local officials distribute food, much of it in the hard-hit area of New Rochelle.
A Tennessee Air National Guard C-17 Globemaster transport aircraft delivered 500,000 swabs to be added to COVID-19 test kits in Memphis Wednesday.
More than 500 soldiers are assisting with collecting samples from drive-through testing in Broward County, Florida.
In Maryland, the National Guard is supporting medical assessments and testing site operations.
The Wisconsin National Guard is supporting transportation missions for the Wisconsin Department of Health Services.
In Louisiana, Guard liaison officers are assisting the New Orleans Office of Homeland Security in emergency preparedness.
Across the U.S., civil support teams are supporting the local departments of health with drive-through testing stations.
So far, six members of the Guard in the U.S. have tested positive for COVID-19, he said. Force health protection measures are in place to prevent more from contracting the virus.
Key points to consider:
High-risk populations which include older adults (ages 65 and higher) as well as people who have serious, chronic medical conditions (like heart disease, diabetes and lung disease) are at higher risk for contracting COVID-19. These individuals should self-isolate at home.
Residents should practice good health hygiene which includes washing your hands, staying home if you are sick, avoiding close contact with people who are sick and covering your cough or sneeze with a tissue or your sleeve (not hands).
Minimizing risk through social distancing whenever possible which includes avoiding attendance at large gatherings (250 people or more). Small gatherings should be limited to no more than 10 people and provide social distancing of six feet per person.
Maintain vigilance and personal readiness which includes being prepared if there is COVID-19 in your household or a disruption of daily activities in your community. For example, maintain a supply of medications, food and other essentials in your house.
Call ahead: If you are experiencing symptoms of COVID-19, stay home while you are ill. If you need to seek medical care, call your health care provider first so that appropriate precautions can be taken.