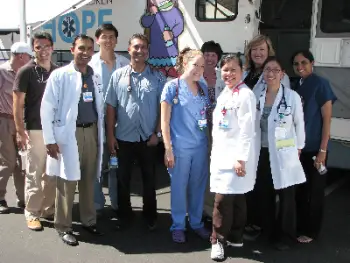 Santa Ana Philanthropist Honored
National Philanthropy Day Orange County 2011
FOR IMMEDIATE RELEASE
Media Contact: Jess Block – JessBlockPR@gmail.com – 909-706-8525
SANTA ANA, CA- Santa Ana organization Kaiser Permanente will be honored as Outstanding Large Corporation or Business at this year's National Philanthropy Day (NPD) Orange County celebration, to be held Tuesday, November 15, 2011 from 11:30 a.m. to 1:30 p.m. at the Hyatt Regency Orange County located at 11999 Harbor Blvd in Garden Grove, CA.
Kaiser Permanente has an overall commitment to provide health care services to low-income families in the region that positively impact all sectors of public health, including AIDS treatment, breast cancer, maternity, children's well-being, senior health, and health care for the uninsured in Orange County.
Employees engage the community by volunteering in food pantries and hosting holiday toy drives. Physicians volunteer to provide in-kind medical services in the socio-economically depressed regions of Orange County, serving the homeless and indigent populations. Kaiser's corporate support assists in providing multiple health care services to families and individuals in need.
Kaiser has demonstrated a deep commitment to health care in their partnership across numerous nonprofits in the region, providing grant funding, public policy guidance, health education seminars, and the creation of a safety net of screening services, actively maintaining their mission of building healthy communities for everyone.
National Philanthropy Day Orange County has become the most prominent philanthropic recognition event in Orange County, with more than a thousand individuals, businesses and support organizations honored since its inception in 1986.
John and Elizabeth Stahr, the 2009 Outstanding Lifetime Achievement Honorees, have been named Honorary Co-Chairs of this year's 26th Annual National Philanthropy Day Orange County Awards Luncheon.
Media Inquiries contact:
Jess Block, NPDOC Publicist at 909-706-8525 JessBlockPR@gmail.com
Cathy Michaels, NPDOC Event Co-Chair 714-560-0900 cathy.michaels@ocsarts.net
Sally Lawrence, NPDOC Event Co-Chair 949-842-5353 Lawrence.Sally@hotmail.com
Public information: 949-436-2939 or office@afpoc.org
ABOUT NATIONAL PHILANTHROPY DAY ORANGE COUNTY: National Philanthropy Day Orange County honors those who have demonstrated philanthropy and enhanced their communities and the world. Each year more than 100 Association of Fundraising Professionals chapters throughout the US and Canada honor the philanthropic efforts of individuals, businesses, and groups. Net proceeds of the event support the ethical advancement of philanthropy in the community by the Orange County Chapter of the Association of Fundraising Professionals.
National Philanthropy Day Orange County is sponsored by the Orange County Chapter of the Association of Fundraising Professionals and is presented by the Orange County Register. For more information regarding the event, visit www.npdoc.org.