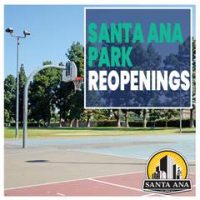 The City of Santa Ana is reopening most park amenities to the public on Monday, June 29, 2020.
Park amenities were closed in March due to COVID-19. Most amenities will open to the public following State-mandated safety measures and guidelines.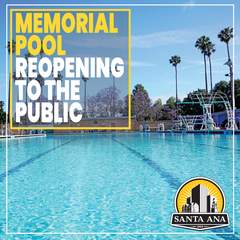 Park users will again be able to enjoy the following amenities:
• Parking lots
• Restrooms
• Park open space/grass areas for general recreation and fitness activities
• Sport fields by permit only for youth sports practices
• Outdoor basketball and volleyball courts for walkup play only
• Handball courts for walkup play only
• Centennial and Mariposa Skate Parks
• Centennial and Thornton Park Lakes
• Lawn bowling greens while adhering to social distancing guidelines
• Memorial Park Pool – Public Recreation Swim Times are 11 a.m., 1:30 p.m. and 3:30 p.m.
In accordance with the State mandate, the following amenities will remain closed until further notice:
• Playgrounds
• Fitness Zones
• Picnic shelters/tables
• Recreation and senior centers
The archery range is currently closed due to Public Works projects.
Residents are still encouraged to minimize their time outside the home, wear a mask, avoid gathering in groups and practice social distancing when out in public and while using City parks.
For further information on specific park locations and amenities, please visit www.santa-ana.org/parks/parks-and-facilities or call (714) 571-4200.
Instalaciones de los Parques Reabren al Público el Lunes 29 de Junio
La Ciudad de Santa Ana reabrirá la mayoría de las instalaciones de los parques al público el lunes 29 de junio de 2020.
Las instalaciones de los parques de la Ciudad estuvieron cerradas en marzo debido a la pandemia COVID-19. La mayoría de las instalaciones se abrirán al público siguiendo las medidas y pautas de seguridad exigidas por el Estado.
Los usuarios de los parques podrán disfrutar de las siguientes instalaciones:
• Estacionamientos
• Baños
• Áreas abiertas de los parques/áreas de césped para recreación general y actividades físicas
• Campos deportivos solo para prácticas deportivas juveniles con permiso de reservación
• Canchas de básquetbol y voleibol para juegos de recreación
• Lagos de parques Centennial y Thornton
• Áreas verdes de boliche en césped adhiriéndose a las pautas de distanciamiento social
• Piscina del Parque Memorial – Horarios de natación de recreación publica son 11 a.m., 1:30 p.m. y 3:30 p.m.
Conforme al mandato del Estado, las siguientes instalaciones permanecerán cerradas hasta nuevo aviso:
• Parques infantiles
• Zonas de acondicionamiento físico
• Quioscos y mesas para picnic
• Centros Comunitarios y Centros para Personas de la Tercera Edad
El rango de arquería actualmente está cerrado debido a proyectos de Obras Públicas.
Se les recomienda a los residentes minimizar su tiempo fuera de casa, usar mascarilla, evitar reunirse en grupos y practicar el distanciamiento social cuando están en público y mientras usan los parques de la Ciudad.
Para obtener más información sobre la ubicación e instalaciones de parques específicos, favor de visitar www.santa-ana.org/parks/parks-and-facilities o llamar al (714) 571-4200.