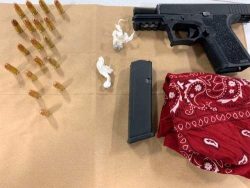 SAPD Gang Detectives located a wanted subject this evening who was suspected in two separate shootings, according to the SAPD's Twitter account.
In plain view, the SAPD police detectives located a loaded Glock 9mm semi-auto on the passenger floorboard.
A further search of his vehicle revealed a small amount of heroin and meth inside the vehicle.
The suspect was not identified nor were the pending charges revealed.