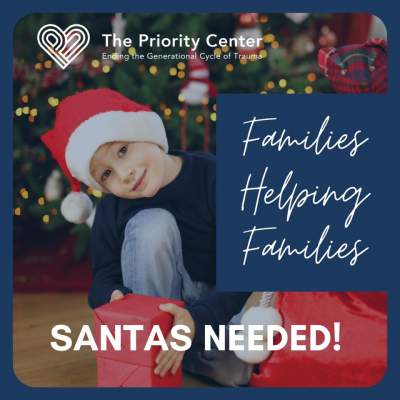 SANTA ANA, CALIF. – Nov. 23, 2020 – The Priority Center in Santa Ana, California, is in urgent need of families, individuals and companies to adopt an Orange County family for this year's Families Helping Families holiday campaign. Formerly known as the Child Abuse Prevention Center, The Priority Center is dedicated to breaking the generational cycle of trauma of all kinds – including mental health traumas which can have a lifelong effect.
According to Lisa Fujimoto, executive director of The Priority Center, the organization has seen a 98 percent rise in requests this year from families asking to participate in the holiday program. More than 270 families have requested support, compared to fewer than 140 last year. This year, each adopted family will receive a gift card for food and basic necessities, along with a gift for each child in the family. The deadline to adopt a family this year is Tuesday, Dec. 8.
The Priority Center has received commitments for the campaign from around the county but an additional 150 families are still waiting for help. Each year the program benefits Orange County's neediest families, many of which struggle to pay rent and utilities and buy food and basic wish-list items such as socks, jackets, shoes and clothing for their families.
"The coronavirus pandemic has had a devastating effect on these families, some of which were already living paycheck to paycheck," Fujimoto said. "People have lost their jobs and they've exhausted whatever unemployment benefits they were able to receive. For these folks, it's now a matter of choosing between paying rent or buying food. The idea of spending money on a special holiday meal – let alone purchasing gifts for their children – is not an option. Without community support, sadly there will be no holiday celebration for these families."
"We are turning to the community for help, including families, individuals, churches and companies large and small, to assist us with this program," Fujimoto added. "Many people will be holiday shopping from home this year due to COVID-19 and so we've made it easy to adopt a family online. We understand this has been an extremely challenging year for Southern California and the nation. And yet, our hope is that people will choose to experience the joy of giving by assisting families so desperately in need."
To adopt a family, please visit the Families Helping Families website. Or to learn more about the holiday program, please call 714-543-4333 and ask to speak with Evelyn.
The Priority Center
Established in 1983, The Priority Center (formerly known as the Child Abuse Prevention Center) serves at-risk adults, families and children in crisis to prevent and break the generational cycle of trauma and abuse. The center matches individuals and families at risk of trauma with professional caseworkers who work with them directly through telemental health services during the pandemic. The Priority Center also works with adolescents and adults in crisis who need intervention services dealing with a mental illness and suicidal ideations.
According to a report by the Orange County Health Care Agency, suicide in the county is at an all-time high with a rate of 10.9 people per 100,000 people. The Priority Center teams work with adolescents and adults experiencing suicidal ideation and self-harm. The Priority Center is the only nonprofit organization in Orange County offering in-home crisis stabilization for children, adults and families. The center employs 125 professional staff members, two-thirds of whom provide direct services to individuals in need. In 2019, the center's programs served more than 6,000 individuals in crisis and families. The corporate offices for the center are located at 1940 E. Deere Ave., Suite 100, in Santa Ana, California.