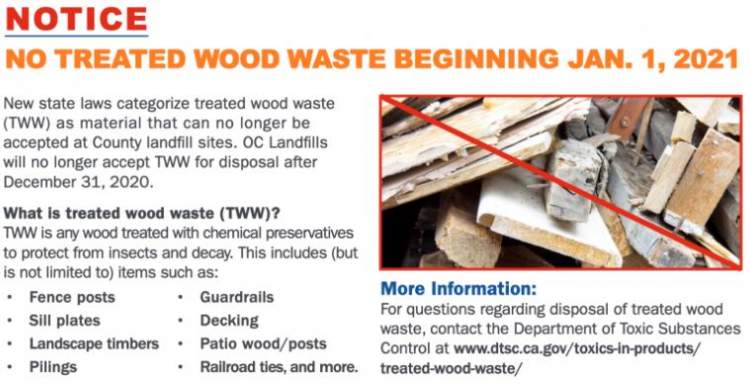 SANTA ANA, Calif., Nov. 23, 2020 – In response to expiring state waivers, the California Department of Toxic Substances Control will no longer allow the landfill disposal of treated wood waste (TWW), effective January 1, 2021. This means OC's landfills cannot accept TWW for disposal.
TWW is any wood treated with chemical preservatives to protect it from insects or decay. Residents and businesses will need to find alternative disposal options for TWW, including but not limited to:
Fence posts
Sill plates
Landscape timbers
Pilings
Guard rails
Decking
Patio posts
Railroad ties, and more
Current statute (HSC 25150.7) and regulations (22 CCR 67386.1 et seq.) allow TWW to be handled with Alternative Management Standards (AMS). However, these regulations are due to expire after December 31, 2020. Upon expiration, TWW is categorized as material that can no longer be accepted at County landfill sites. For more information, residents and businesses can visit the Department of Toxic Substances Control at www.dtsc.ca.gov/toxics-in-products/treated-wood-wasteinformation-and-fact-sheets/
About OC Waste & Recycling OCWR serves the County's solid waste disposal needs by providing waste management services through a municipal landfill system and resource recovery facilities, protecting the local environment, investing in renewable energy enterprises and promoting recycling in order to ensure a safe and healthy community for current and future generations. The department manages one of the nation's premier solid waste disposal systems, serving residents and businesses in the County's 34 cities and unincorporated areas. OCWR's three active landfills reflect environmental engineering at its best. Learn more by visiting the OCWR website at www.OCLandfills.com.