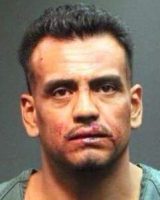 Israel Perez Rangel, 38, a Santa Ana man got caught begging for gas money for what turned out to be a stolen $265,000 Ferrari and he was finally arrested after a two-week joyride that trashed the stolen vehicle, according to the O.C. Register.
Rangel was being held in the Orange County jail on suspicion of vehicle theft and grand theft auto with prior convictions and vandalism causing damages of $10,000 or more.

The car in question was left at the Ferrari and Maserati of Newport Beach service center in mid-October, in Costa Mesa. A man named Eadweard York dropped off the vehicle, which belonged to his girlfriend, Susan Friedman, of Laguna Beach, to get serviced. But when he came back for the vehicle the next day it has disappeared, according to KTLA.
Apparently, a worker had left the key on the passenger seat. Security footage showed a man wearing a Ferrari jacket walking onto the property past employees, looking in a few car windows and then driving off in the Ferrari, according to the L.A. Times.
The theft was caught on a security video at the service center.
Rangel had fun for two weeks but on Nov. 1 someone called the SAPD to report that an exotic car was being driven in an erratic manner at Dyer Road and Hotel Terrace, in Santa Ana.
An SAPD police officer found Rangel and the stolen car at a Mobil gas station on East Dyer.
Rangel tried to hid behind some bushes at the entrance to a nearby Holiday Inn but he was arrested, according to the SAPD.
Rangel matched the image of the thief who got caught on the service center security video.
Rangel was caught red-handed but he pleaded not guilty on Nov. 3. It turns out he has a long record of criminal shenanigans including vehicle theft, drug possession, resisting arrest, shoplifting, possession of a deadly weapon, assault with a deadly weapon, carrying a switchblade, criminal threats, evading a peace officer with reckless driving and buying or receiving a stolen vehicle or equipment, according to court records.
Friedman was taken care of by her insurance company. They paid her for the trashed vehicle. She spent the money on a 2018 Lamborghini Huracán.