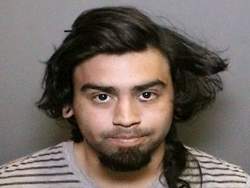 Remember when the gentrifiers promised that DTSA would be so much better and safer without all those Mexican bars? Well today Juan Angel Rivera, a 23-year old Santa Ana man who stabbed Nathan Alfaro, a fellow concert-goer, to death during a punk show at the Underground DTSA, was sentenced to 11 years in prison, according to the O.C. Register.
Rivera could have been sentenced to either probation or the minimum term of three years in prison. Instead Orange County Superior Court Judge Patrick H. Donahue gave him a far more severe sentence. Donahue noted in his comments that Rivera had an abnormal fascination with knives.
Rivera apologized for killing 23-year-old Alfaro during a march 2016 concert in downtown Santa Ana. He said he wished that the tragedy had never occurred and he stated that his actions were "sub-conscious."
Alfaro and Rivera got into a fistfight that night when Rivera tried to start a mosh pit – a common occurrence at punk rock concerts.
Others at the concert stopped the first fight. But then Rivera started a second fight with Alfaro – and this time he pulled out a knife and stabbed Alfaro to death.
Rivera testified that he stabbed Alfaro because he was being pummeled, couldn't breathe and was worried he was going to die.
It turns out Rivera has a young daughter. So the misery is compounded. Those 11 years in prison will surely be a very tough time for Rivera – but he will ostensibly exit prison alive after that term, while Alfaro is gone forever.