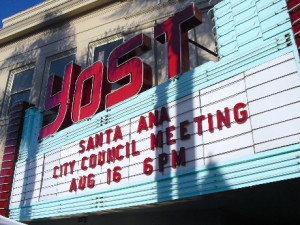 Santa Ana: In Need of a Real Renaissance
By Omar Ávalos Gallegos, The Santa Ana Sentinel, on April 11, 2013
In a city that is overwhelmingly Latino (upwards of over 80 percent) it becomes necessary for the majority to be reflected in the city's decision making. Santa Ana is in need of a true organic growth from within, and not from unmeasured transplantation from without.
One area where Latinos are grossly under-represented is in business. We Latinos in Santa Ana have the numbers. We are a numeric and political majority, but we are not an economic majority.
Let me rephrase that. We are not the economic engine. We provide dollars and consumers, but we generally don't generate the jobs, much less own commercial real estate.
In a city where we've faced controversy and battles over gentrification, it is up to those of us that care for this city, and who want to see our majority reflected in all aspects of city life, to become the business class.
We've faced problems with what some of us interpret as a transgressive landlord in the downtown at the newly christened "East End." Well the way to counteract landlords like that is to become one yourself. We need more Latino commercial landlords for every type like the "East Enders."
Why? Why is it important for us to have our majority reflected in commercial real estate? Because then we decide what gets programmed and housed. We decide what cultural activities and events are appropriate. We decide what businesses get leases.
The way things are setup now, The Yost Theater in not a space reflective of the Santa Ana community, and it is a shame. A former city council facilitated privatizing this historic theater and in doing so took what should have been a historic resource and cultural outlet away from the community.
Click here to read the rest of this article.