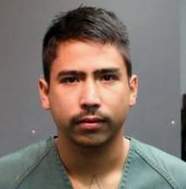 Santa Ana Police Department
Advisory: Detectives Arrest Man Wanted In 2011 Gang Related Homicide
Arrested Jesus Canales (23) – Charge Homicide
On Friday, July 22, 2011, a gang-related shooting occurred at the 300 block of East Washington Ave. The victim, a male juvenile, died as a result. During the investigation SAPD Homicide Detectives identified Jesus Canales, 18-years old at the time of the shooting, as one of the suspects. A warrant was issued for his arrest.
During the ensuing ongoing investigation, Canales was found to have fled to Michoacan, Mexico. He was recently detained by Mexican authorities. On Thursday, December 8, 2016, Canales was turned over to Santa Ana Homicide Detectives at LAX.
The Orange County District Attorney's Office has filed homicide charges and associated gang enhancements against Canales.