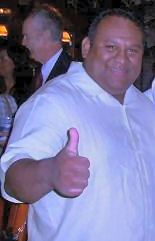 Santa Ana Councilman Sal Tinajero is a champion at water conservation
The Santa Ana City Council is going to be revising landscaping codes this Monday, to include water efficient landscaping, at their last meeting this Monday evening, according to the City of Santa Ana's website.
Many cities are allowing home owners to use alternative landscaping that wastes less water.
With that in mind, shocking news emerged over at the O.C. Register this weekend, as they published the amount of water used by local elected officials in Orange County.  It turns out many of these officials are big-time water wasters!
Santa Ana Councilman David Benavides represents Santa Ana on the Orange County Sanitation Board.  That is the agency that cleans our wastewater – and some of that cleaned water is injected into our water table, to prevent incursion of ocean water.  It eventually ends up in our drinking water.
According to the Register, Benavides' water use jumped 36.6% over the past year! Benavides explained that "he planted grass in his backyard so his two young children could play, which boosted his water usage.  Said his family has put in low-flow shower heads and his daughter, in particular, is like a "military sergeant" about not wasting water."
Santa Ana Mayor Miguel Pulido's water use dropped by 20% – but he uses more than two times as much water as Benavides does!
And Councilman Vince Sarmiento uses more water than Pulido does, but he also cut his water usage by over 23%.
Santa Ana Mayor Pro Tem Claudia Alvarez uses less than a third of the amount of water that Pulido uses, and her water usage dropped by almost fifteen percent.  Alvarez has no children and is unmarried, so that should not be a surprise.
Santa Ana Councilman Carlos Bustamante cut his water usage by 6% and he uses less water than Alvarez, Pulido, Sarmiento and Benavides.
But the clear winner amongst the Santa Ana Council Members, in terms of water conservation, is Councilman Sal Tinajero.  He cut his water usage by over 50% and he uses less water than all of his peers on the City Council.