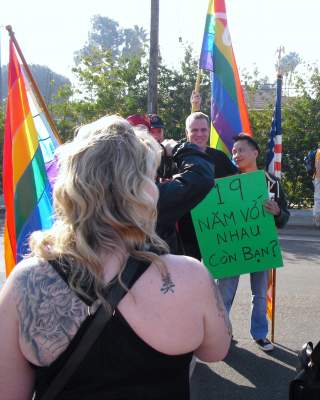 Update on 2/10/13: None of the Santa Ana City Council Members showed up to the Tet Parade nor did I see any of the gay activists.
The controversy that has brewed all week will continue at the Tet Parade scheduled for this Sunday, February 10, at 9 am, at the intersection of Bolsa and Magnolia.
They gay activists who were told by the parade organizers that they could not participate in the parade sued the organizers but a Judge found against them this week.
In the wake of that court decision a number of local elected officials have declared that they will be boycotting the parade.  This is by the way a parade that almost didn't happen, as the City of Westminster is broke and couldn't pay for it. Volunteers worked very hard to raise the money to hold the traditional Lunar New Year parade, in Little Saigon.
The politicians in question, for the most part, did nothing to help raise money for this parade, as I understand it.  Nor did the gay activists.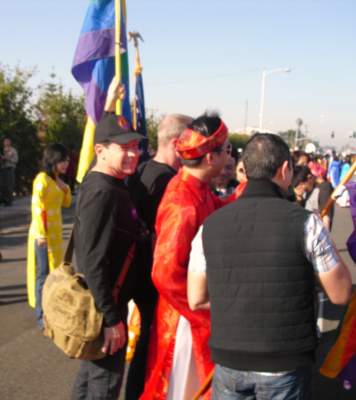 The gay activists used to participate in the Tet Parade when it was a public event.  I remember seeing them there a couple years ago.  Many of them were holding signs regarding gay marriage.
One gay couple apparently kissed at the parade last year and as I understand it the parade organizers could not get any assurances from the gay activists that they would behave this year.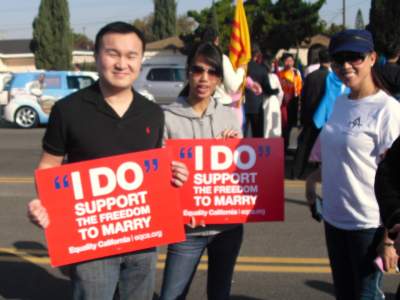 Personally I do not believe that community parades are appropriate venues for people making out or for those who want to advocate for controversial political positions.  I support gay marriage but that is not what the Tet Parade is about.
Santa Ana Council Members Sal Tinajero, David Benavides and Michele Martinez supposedly will be walking in the parade along with the gay activists in question, according to the Orange Juice blog.  Santa Ana Mayor Miguel Pulido will be at the parade but as far as I know he is not planning to accompany the other Council Members, who turned against him last year when Benavides ran unsuccessfully against him.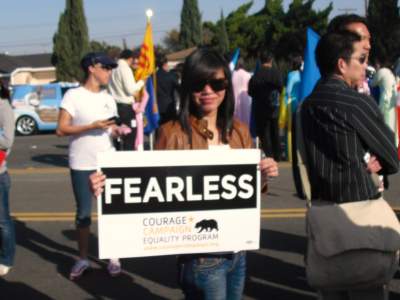 Gay activist and blogger Chris Prevatt, who came in last place, with just over 6% of the vote, when he ran for the Garden Grove City Council in 2002, has called for politicians to boycott the parade.  Congresswoman Loretta Sanchez , Congressman Alan Lowenthal, and State Senator Lou Correa have all reportedly pulled out of the parade.  Garden Grove School Board member Bao Nguyen pulled out too.  Newly elected Westminster Council Member Diana Carey is going to walk in the parade apparently dressed in a traditional Vietnamese dress, but with a black armband to show that she is mad about the gay activists being excluded.  Call it mad pandering I guess.
Natalie Newton, a Vietnamese American lesbian and one of the main organizers of the Partnership of Viet LGBT Orgs, is asking politicians not to boycott but rather to show up to the parade and walk with gay activists.
I agree with Newton – no one should boycott this event, that so many people worked so hard to organize and present to the community.  None of the parade organizers is opposing the inclusion of gay activists as participants with others in the parade.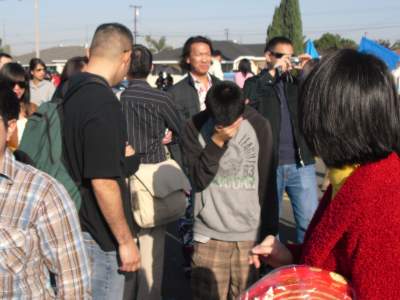 It was not right for the gay activists to try to hijack an event for their own purposes and I believe this will backfire on them and on the politicians who pulled out of this event.
The Vietnamese American voters in Orange County actually do vote, a lot.  Their vote matters and believe me their community is taking note of what is going on.  In two years Tinajero, Benavides and Martinez are all up for reelection.  And it is likely that someone in their cabal will be running against Mayor Pulido.  Well Pulido did very well with the Vietnamese voters last November and I suspect he will pick up even more votes now.  The rest of these politicians, particularly those who choose to boycott the event, are cutting their noses off to spite their faces.  Good luck with that.