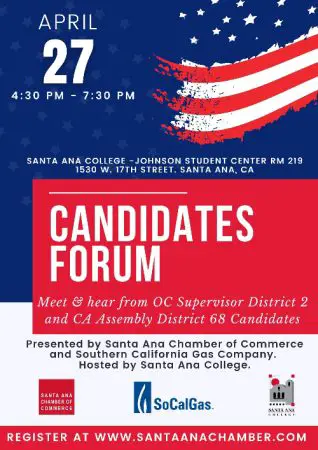 Santa Ana College is hosting a candidates forum on Wednesday, April 27, from 4:30 p.m. to 7:30 p.m. that will include the candidates for District 2 of the Orange County Board of Supervisors and the candidates running for the 68th State Assembly District.
The forum location is the Johnson Student Center, Room 219, at Santa Ana College, which is located at 1530 W. 17th Street.
Who do you support for the O.C. Board of Supervisors in District 2?
This event is free, but attendees are encouraged to register in advance by calling 714-541-5353 or by sending an email to fdelariva@santaanachamber.com.
The District 2 candidates for the O.C. Board of Supervisors include two Democrats – Vicente Sarmiento and Kim Bernice Nguyen; Ceci Iglesias, a Republican; and Juan Villegas, an independent.
The candidates for the 68th Assembly District include Avelino Valencia and Bulmaro Vicente, who are both Democrats, and Mike Tardif and James Wallace who are both Repulicans.
This forum is presented by the Santa Ana Chamber of Commerce and the Southern California Gas Company.