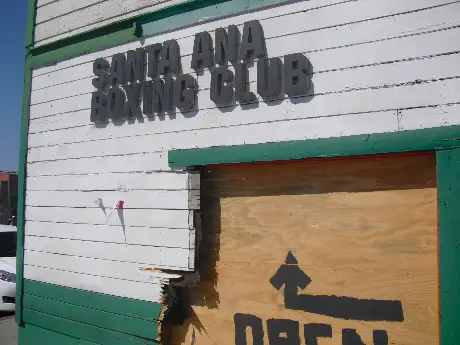 Local sports legend Anthony Serrano, the head of the Santa Ana Boxing Club, has been arrested, according to the OC Weekly.  The official press release about this arrest has not yet been issued by the Orange County District Attorney's office.  According to the Weekly, the "police arrested Serrano on charges that he sexually abused one of his boxers."
Serrano has run the Santa Ana Boxing Club for the last ten years and is listed on their contact page.  The boxing club is part of the Orange County Youth Commission, which "was launched in 1997 by Rosemarie Avila and a group of concerned community members who recognized the needs of children in high-poverty areas of Orange County and wanted to make a difference in their lives," according to their website.
The mission of the OC Youth Commission, according to their website, is to "bring hope and purpose to the children and youth in the inner city by developing a partnership among the business/private sector and faith community to provide wholesome activities that educate, train, inspire and transform lives."
According to the OC Youth Commission's website, "Back in the 70s, John Ramirez Sr. opened the gym. It was considered a safe haven for the young people in this low-income neighborhood. John Ramirez, Sr. had a way with the youth and when they entered the gym it was neutral ground. For years the City of Santa Ana has supported the gym with Community Development Block Grants."
I received a phone call from the mother of one of the youngsters at the boxing club a few weeks ago.  She said she had pictures of teens drinking beer with Serrano and sure enough that is one of the pictures posted by the OC Weekly.  At the time I chose not to write about this as the SAPD was investigating the case.  Apparently they wrapped that up!
The mother told me that she had contacted OC Youth Commission board member Charles Hart about the allegations and he met with her, with a lawyer in tow.  They denied everything and that was that, except that of course the mother did not take no for an answer.  Hart is now a candidate for Ward 3 on the Santa Ana City Council, and I expect him to get dragged into this mess before it is over.
Hart, like Avila, is a Republican.  The OC Youth Commission does not list who is on their board of directors, on their website.