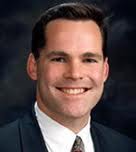 Brett Franklin, a former Santa Ana Council Member, has apparently pulled nomination papers for Ward 3 on the Santa Ana City Council, according to a city insider.  Franklin previously represented Ward 3 for two terms.  He was replaced by current Council Member Carlos Bustamante, who was recently arrested and now faces a number of felony sex crime and public theft charges.  Both Franklin and Bustamante are Republicans, and Franklin is an elected member of the OC GOP's Central Committee.
I am told that Santa Ana Mayor Miguel Pulido is backing Franklin.  The other declared candidates include Eric Alderete, a lawyer who serves on the Santa Ana Planning Commission, and Charles Hart, who ran for Mayor unsuccessfully against Pulido in 2010.  Alderete is a Democrat, and Hart is a Republican.
Franklin ran unsuccessfully for the Rancho Santiago Community College District's Board of Education, in 204.  He came in dead last out of four candidates, according to Smart Voter, with only 17.6% of the vote.  He last won a Council seat in 2000, with over 43% of the vote, according to Smart Voter.
Pulido and Franklin have been allies for years and Pulido has in the past hired him as an assistant with regard to Pulido's work on the South Coast AQMD Board of Directors.  Franklin is a realtor.