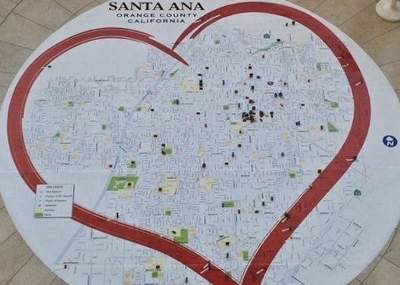 We need your voice again! Please join us at the upcoming Arts and Culture Community Listening Session to help identify important priorities for Santa Ana's arts future, scheduled for Friday, March 15, 2019 from 6:00 p.m. to 8:00 p.m. at the El Salvador Center: 1825 W. Civic Center Dr. Santa Ana, 92703.
To register for this event and future Arts and Culture Community Listening Sessions, please click here.
The City of Santa Ana adopted a 10-year Arts and Culture Master Plan in 2016 that the community helped to shape with input from numerous discussions held throughout the city. It is a comprehensive plan with many initiatives that provide a direction for Santa Ana's arts future. We are pressing forward with identifying those initiatives that will shape the direction we take as a community over the next several years, and we need to hear what is most important to you!
You will have the opportunity to:
Meet residents, artists, community partners, Arts and Culture Commissioners, and Arts and Culture Office staff
Share ideas and collaborate
Share information about projects in your neighborhoods
Learn about exciting events taking place throughout the city
Trained arts instructors will hold a free children's art workshop at each event. Food and refreshments will also be provided. Participants are encouraged to review the Arts and Culture Master Plan prior to attending the listening sessions. Copies of the plan are available for download here.
Additional Listening Sessions coming up later this year:
[Ward 2] Santa Ana Senior Center: 424 W. 3rd St. Santa Ana, 92701, Thursday, April 25, 6:00 pm-8:00 pm (Park in the structure on 3rd and Bush streets. Parking will be validated)
[Ward 6] Centennial Complex: 3000 W. Edinger Ave. Santa Ana, 92704, Friday, May 24, 6:00 pm-8:00 pm (Please refer to Centennial Complex map below.)
[Ward 3] Salgado Center: 706 N. Newhope St. Santa Ana, 92703 on Friday, June 21, 6:00 pm-8:00 pm